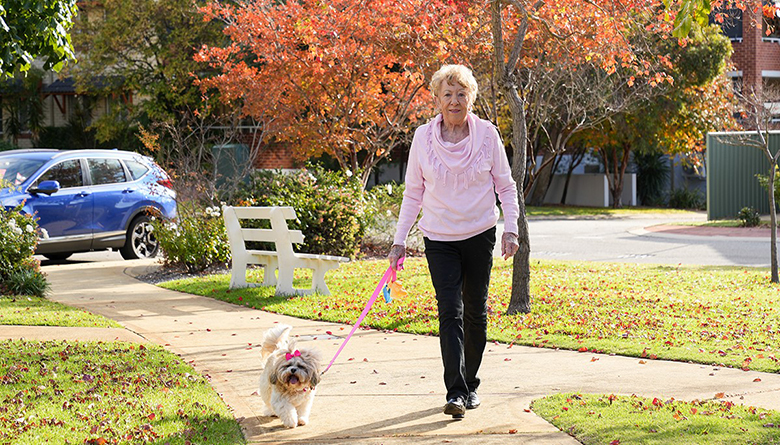 If you see lots of smiling in our care centres, there may very well be an animal in action!
If you see lots of smiling in our care centres, there may very well be an animal in action! Meet retirement living resident, Glenice Finlen, and her wonder dog, Charlie, who bring joy to the residents in SwanCare's residential aged care centres.
Glenice has lived in retirement living at SwanCare for the past two years and said it brings her (and Charlie) so much joy to see the aged care residents faces light up when Charlie walks in the room. "She's such a special dog and I felt like I should share her with people," Glenice said. "She is very intuitive with people's emotions, and she can sense when they need some comfort."
Charlie has such a lovely nature and is always ready for a picture and a cuddle. "I've owned lots of dogs, but she has such a placid nature, the residents really adore her. She laps up all the attention - she's like a film star, she has the best time," said Glenice.
For those in the aged care centres who have had pets previously, it brings back many wonderful memories and Glenice often hears about their pets of the past. "Charlie is also a great conversation starter, it's nice for the residents and they're always so grateful for the pats," said Glenice.
Once Glenice and Charlie have finished their rounds, it's only a 5-minute walk back home in the village. "We get a big thank you at the end, but I think we're the ones who should be thanking them," said Glenice. "Visiting the centres brings Charlie and I so much joy, I feel blessed to have a dog as special as she is and love sharing her with the residents."
Glenice hasn't been able to visit the care centres lately as a knee replacement and pneumonia have kept her home bound, but she can't wait to return to visits every Thursday as soon as possible. "The residents adore Charlie at the home, so we're very much looking forward to being able to go back," Glenice said.
When she's not with Charlie, Glenice has four children and eight grandchildren who keep her busy and said she loves living at SwanCare because of the beautiful people and staff. "I've been so happy here, it really is a wonderful place to live," she said. "I lost my husband a few years ago and I was very lonely, so to be able to have a new lease on life here is a gift."
Glenice had some parting words on volunteering their time at the residential aged care centres. "I feel like we're making a small difference to people's lives… I'd go every day if I could."
Thank you so much for chatting with us, Glenice! And thank you for all the smiles you bring to our aged care centres.