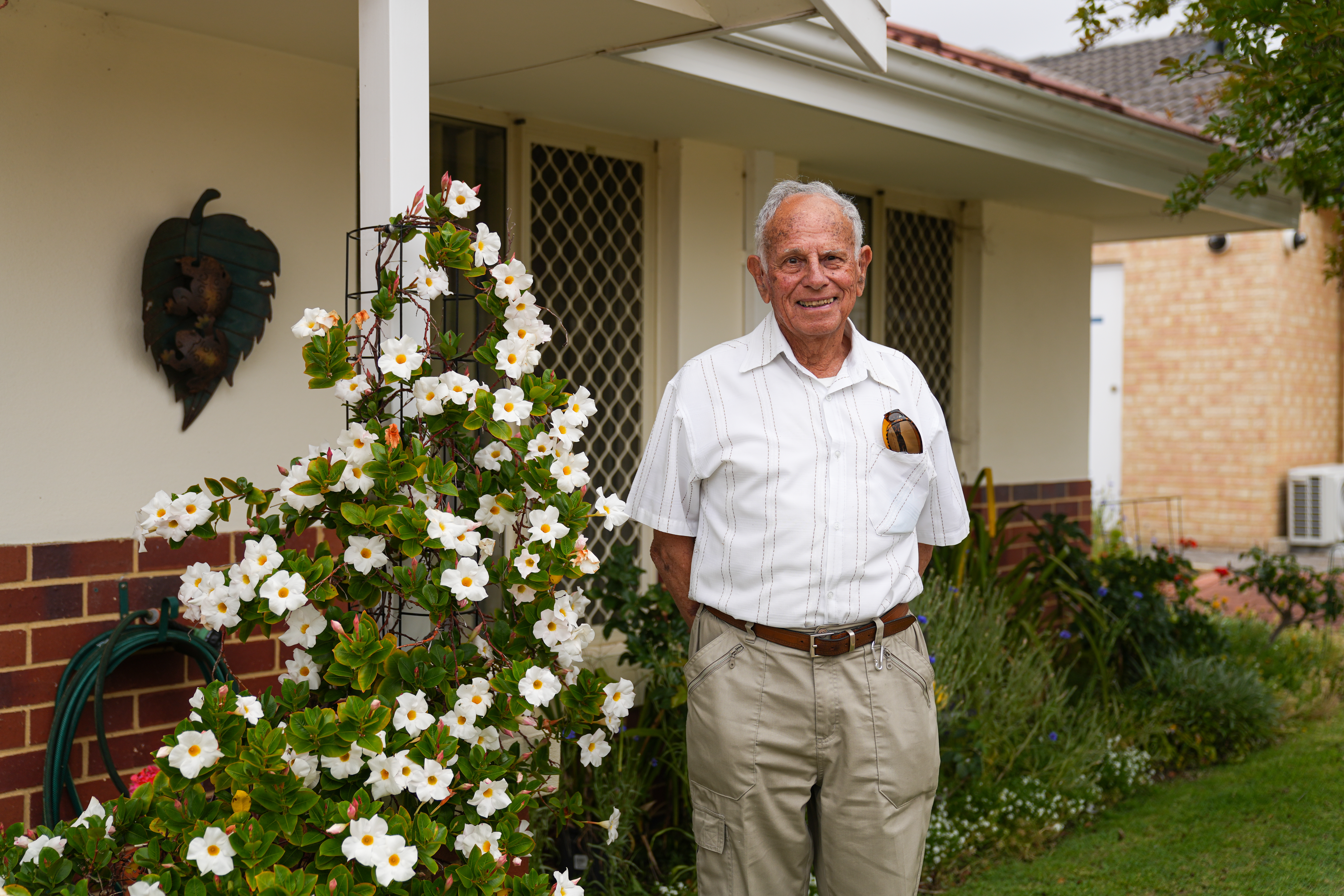 SwanCare resident Terry Brown had a long and varied career before he retired, but his favourite roles in life were as a husband, father, psychologist and sailor.
When Terry Brown first left school at 15 he went to work at WA Newspapers, working there for the next 10 years. He started at the bottom of WA's state newspaper, delivering advertising proofs to advertisers and then later moved into advertising layout and graphic design. He also completed a 5 year apprenticeship there as a Hand and Machine Compositor. Terry said that while he enjoyed his time as part of Perth's media landscape, he decided he needed a change and so left to work for the Employer's Federation in an industrial relations role.

From there he followed his passion for helping people, working at TAFE as part of its counselling service for the next 23 years. While he was in the role, he also studied for his Bachelor of Psychology degree part time, it took him eight years to complete it while he worked full time.

In 1995, after they disbanded the counselling service at TAFE, he went on to work at the Curtin School of Business, often lecturing overseas. He also helped supervise overseas students and supported them as they settled into their new lives in Perth.

Terry said his interest in psychology was basically an interest in people. He had always enjoyed the subject and loved working closely with other individuals.

"We offered help and support to students and teachers, and we also offered vocational counselling for students who didn't really know what they wanted to do," he said.

"I enjoyed giving back and helping people. We also administered aptitude tests and interviewed people for courses. It was a very busy role, but I really got a lot out of it."

Terry moved into SwanCare in 2014 with his wife Leonie who sadly passed away in 2018. Their move was followed by two other couples who have been lifelong friends.

The first was John Hollier who Terry went to primary school with, and his wife Robyn. The second was Frank Robinson who Terry has been friends with since high school, and his wife Barbara.

"Leonie and I moved into SwanCare first, but we were closely followed by the other two couples and it was great, we were all a bit of a support group for one another here, we always went grocery shopping together and had a coffee on Thursday mornings," he said.

"For us SwanCare was close to home, and we also thought the facilities and the layouts of the units were the best. We are very happy here and I have all the support I need.

"It was really wonderful to downsize and move here, but still live independently and have lifelong friends nearby."

Terry and Leonie also have two grown-up children, Timothy and Lisette, who both live in Perth.

Terry keeps himself busy at SwanCare. He enjoys a photography course; where he has recently won awards, swims in the pool, attends community functions and also takes part in line dancing classes.

"I tried line dancing and I was hooked," Terry said.

"It engages the brain and the body because you have to think about moving as well as working through the steps, it's quite an eclectic musical mix and we learn new dances every week. It's great and very social.

"Photography is something new to me, but I've really enjoyed taking the time to learn about it. My camera is a Canon Powershot, so it's not terribly expensive, but there's still a lot for me to learn and its very interesting.

"I was pleased to win some photography prizes in a local competition recently, one was for a black and white photo, one was a photo of a dog and the other one was of a country scene in Balingup."

For four years Terry also drove SwanCare's SwanMobile, ferrying residents around the village and to run errands nearby. Last year Terry was on the Bentley Show Committee but said he's getting ready to slow down.

Although Terry doesn't sail anymore, he was a committed sailor who enjoyed being part of various sailing and dingy clubs in Perth and also in Albany when he lived there for two years.

He also formed the Naval Cadets Association with John and Frank and at one point they raised more than $100,000 to build six new boats.

To help raise money for the cadets, Terry, John and Frank sold hotdogs at HMAS Stirling's open days and helped a mutual friend to sort wool, then sell it.

"Unfortunately, the association doesn't exist anymore, but we raised a lot of funds for boats and hopefully we helped out a bit," he said.

When asked about his long and varied career Terry said that he had enjoyed all of his roles, but counselling at TAFE was his favourite.

"I finished my career at Curtin, but I really did enjoy working at TAFE, there was so much variety in the role," Terry said.

And when he wasn't working or spending time with his family, he was always on the water.

"I've always enjoyed being out on the open water," he said.

"I was the first full time counsellor at Albany Tech so I bought a 14ft Windrush catamaran while I lived down there and was part of the Princess Royal Sailing Club.

"I also spent time sailing a Heron dingy at the Perth Dingy Sailing Club with my son, which was a lot of fun and sailed with a friend on a cruiser on Wednesday afternoons.

"I don't sail anymore, but I loved not having to rely on a motor and that I had to keep watching the wind to trim the sails, work out where the wind was coming from, there's quite a strategy around sailing.

"My Great Grandfather was a Master Mariner, a ship's Captain who used to sail around South America a lot, so it must have been in the blood."

Terry also travelled frequently with his family, he and Leonie boarded a Swiss lady from Phoenix College in Perth called Fanny and then stayed with her and her family in Basel when they went to Switzerland.

"Basel is fascinating because it's where three countries borders collide, Germany, France and Switzerland," Terry said.

"Fanny's brother Otto was retired and so he became our tour guide, we got to know them both very well and stayed good friends, it was a very interesting place to visit because you were literally on the border of three countries and could just cross borders for whatever you needed, it also makes for a quite unique culture.

"Leonie and I also travelled to Africa, Canada, Europe, England and Fiji. In Fiji it's very relaxing, you definitely get used to Fiji time!"

Terry said he highly recommends living at SwanCare's Village to anyone.

"I've got some excellent neighbours, and we all keep an eye on each other including Frank, Barbara and Robyn. To be honest I haven't come across anyone in the Village that I don't like," he said.

"The staff at SwanCare are marvellous, it's a wonderful place to live."

We love having you part of the SwanCare community, Terry. Thank you for sharing your incredible stories with us.