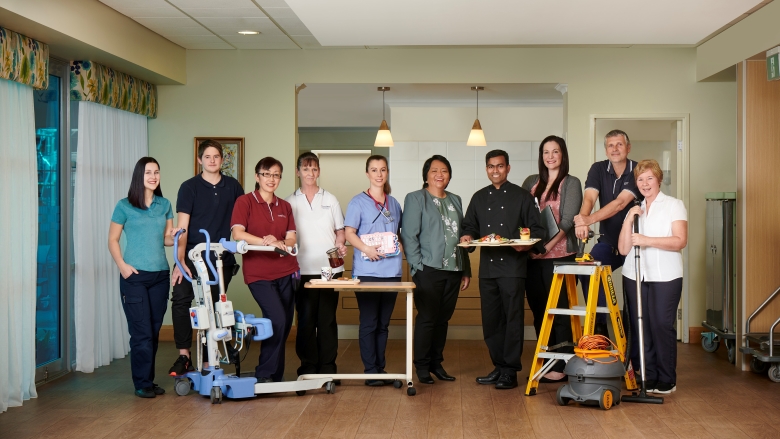 Do you work at SwanCare or have you ever considered working at SwanCare? Many people don't realise that becoming part of the SwanCare family opens up an incredible number of opportunities, to not only make your work more enjoyable and fulfilling, but also live your best life.
Meaningful work is at the heart of any organisation that wants to make a difference. If you work at SwanCare, you have a job with purpose. You are making a real impact on the lives of many people. It's a certain type of person that works at SwanCare. They're compassionate, generous and they care. We appreciate every member of our team and are always looking for ways to show our gratitude. This is why we offer an extensive list of employee benefits designed to provide added value to the lives of our SwanCare family.
In addition to flexible working conditions, which includes hybrid working and varied roster options (where applicable), there are many benefits to working for SwanCare. We hope that by sharing this information you will have a better understanding of what is available to you, whether you work here already or are thinking of joining us:
Discounted HBF health insurance.
Access to Employee Assistance program: Achieve a healthier work life balance with support and resources in many areas including mental health and financial wellbeing.
Flare: A great range of financial discounts.
Discounted onsite gym membership.
Salary sacrificing tax benefits: By paying for things such as a mortgage, rent or loan repayment with your salary before tax, you could pay less tax resulting in more spending money.
Novated leasing.
Free flu vaccinations.
Feathers: Our employer rewards program.
Ongoing training and development.

Feathers: Our employer rewards program
SwanCare Feathers Rewards Program is an initiative introduced to celebrate and acknowledge the incredible work of our team. It's designed to highlight how our people go above and beyond in their roles, and how they demonstrate the SwanCare values through their work. This could be an act of kindness, or their contributions to a project.
Feathers nominations are accepted across seven categories, all based on SwanCare's values of teamwork, customer service and leadership. To nominate someone, you just need to tell us about them by clicking the link here. In addition to staff nominating their peers, residents and their families are also encouraged to nominate.
Kerrilee Wilson, SwanCare's People and Culture Operations Manager explains how it all works: "Think of Feathers as being like Flybuys, said Kerrilee. "Staff collect feathers, then they can trade in the feathers for gift credits or vouchers."
Kerrilee is one of the lucky people who gets to read the nominations and says that it's a highlight of her job because she learns so much about the incredible work behind the scenes of SwanCare.
"It's emotional reading some of them," said Kerrilee. "People say such beautiful things about each other. Hearing about what people are doing for others is a great reminder of what a great place SwanCare is to work. It's inspiring."

Flare: Exclusive benefits
Together with our partner HBF, we have introduced the new Flare benefits program. Flare provides a number of exclusive discounts for SwanCare staff. With Flare, you'll get everyday savings with leading Australian retailers online and instore, and gain access to hundreds of savings at over 9,000 locations!
The best thing about these benefits is that you can tailor them to your own personal needs. Get better healthcare with cheaper health insurance or a discounted holiday through Flight Centre. Other discounts include Woolworths, Ticketmaster, Uber, Target, Amazon, Freedom and BWS. There are no catches, you just have to be working at SwanCare!

Ongoing training and development
SwanCare provide mandatory training for employees, but also offer many elective opportunities. By providing ways to upskill, our aim is to not only satisfy the needs of employees and boost engagement, but to encourage the team to share their knowledge within the wider team. We want to help people upskill for the future and increase their satisfaction in the role they play in the organisation.
Fiona Millar, General Manager of People and Culture talks about the importance of training and development. "Giving our people the opportunity to access training is so important for SwanCare," said Fiona. "We may be a big organisation, but we want to remain focussed on the individual. We've always had a relationship-based approach. We want to provide staff with the ability to access what they need, whether that's more training or better healthcare benefits.

There's a reason why we say we're a work family.
With a team spread across 15 hectares, it's difficult to see and acknowledge the efforts and contributions of every staff member. But their hard work does not go unnoticed. Our employee benefits and employee rewards programs are vitally important to maintain connected to the daily work of our people.
"You look after others by working at SwanCare (either directly or indirectly)," said Kerrilee. "So, we want to look after you in the best way we can. Our culture is very much about building communities. We do this by supporting staff not just in their work life, but in their lives in general."
If you'd like to find out more about the various benefits available to you, please
contact us
to see how we can help support you and make your time at SwanCare more valuable.