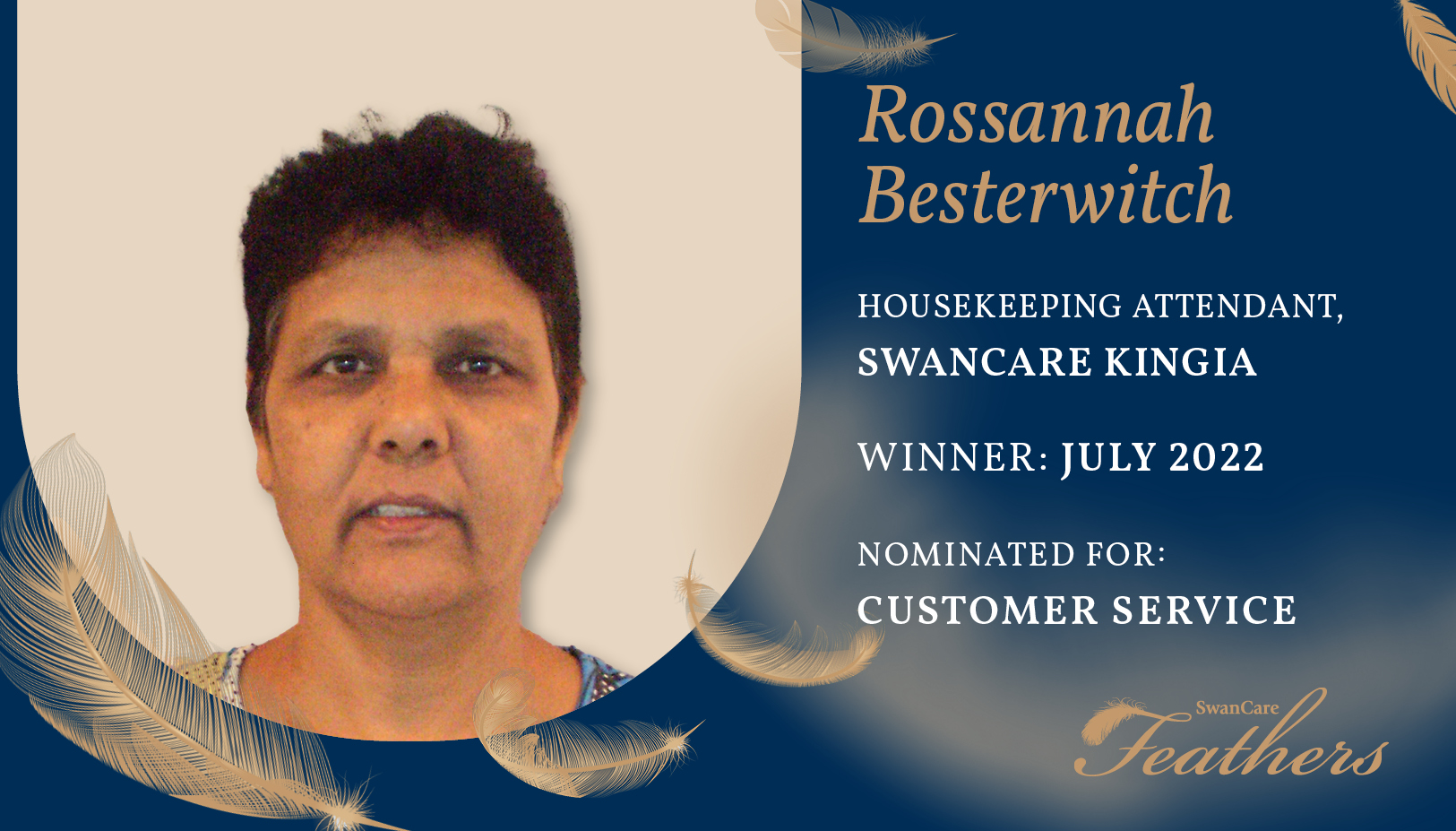 We're all about celebrating our hardworking and dedicated staff at SwanCare, taking time out to indulge in our monthly staff lunches. Our team also love recognising their fellow team members, nominating everyday acts of kindness for our Feathers awards to showcase the moments that matter.
We're all about celebrating our hardworking and dedicated staff at SwanCare. Our team loves taking time out to indulge in our monthly staff thank you lunches, enjoying a delicious meal and lively conversation. They also love recognising their fellow team members throughout the month, nominating everyday acts of kindness for our Feathers awards to showcase the moments that matter.

Our overall Feathers winner for July was Rossannah Besterwitch (Housekeeping Assistant – SwanCare SwanCare Kingia & Tandara) who was acknowledged for her exceptional initiative in customer service. We're always so proud of how our people never think twice about stepping up to help. Thanks, Rossannah, for being so generous with your time and going above and beyond for our residents.

"One of the residents put a note on his fridge that it needed to be defrosted. It's not normally the job of our cleaners to clean the residents' private fridges, and Rossannah wasn't asked to. But when I served morning tea yesterday, I saw her start to de-freeze the ice with tap water. This can be a long process, but she left towels to absorb the water and kept coming back to check everything was okay. She even asked me to double check the water wasn't leaking whenever I passed by the room. I was so impressed by her willingness to help and her dedication to serving our residents. Thanks, Rossannah!"

Category Winners:

Leadership: Roselle Carino (Food Service Assistant – SwanCare Waminda)
The leadership Roselle showed to give her time so willingly in service of our residents is truly awe-inspiring. Thank you for all you contribute, Roselle!

"After one of the Waminda night team leaders called in sick with no immediate replacement, Roselle agreed to step up to cover for them on short notice. This ensured the shift ran smoothly and efficiently so that our residents could continue to experience quality service. Thank you, Roselle, for stepping in to cover when no one else could."

Learning and Development: Jason Barlow (WHS, Risk & Compliance Manager – SwanCare)
Jason took the additional time and effort to help out our Training and Development (T&D) team recently, and we couldn't be more grateful! His expertise has now helped everyone at SwanCare manage risks more effectively and safely. Thanks a bunch, Jason!

"Jason showed great commitment to SwanCare's training and development when he created a risk management module for all SwanCare staff. The T&D team are normally just given a topic for a requested module and have to create it themselves based on similar examples. A complete module has never been submitted before, but Jason's expertise in the field created a great-quality module. Thank you for your contribution, Jason. Keep up the good work."

Recognising Others: Tanya Rose (Assistant in Nursing –SwanCare Kingia & Tandara)
We are so lucky to have people like Tanya around to lift the spirits of those she works with. And we're glad to see someone is appreciating her efforts, too!

"Tanya is one of those people who recognises every effort she sees from her teammates. Her appreciation makes our team feel valued for the hard work they do on the floor."

Teamwork: Hlina Bezu (Food Service Attendant –SwanCare Kingia & Tandara)
Without people like Hlina stepping up to help, we wouldn't be able to do what we love most at SwanCare - enriching the lives of our residents and each other.

"Hlina started with SwanCare early this year and has been an absolute superstar - picking up extra shifts and filling in for last-minute covers. One week, she stepped in to help out four different times due to shift changes and staff covers. Hlina is dependable and hardworking, and we really appreciate her amazing teamwork."

Team Nomination: Bee-Chin Tan, Hannah Jalil and Marie Dadson (Food Service Assistants – SwanCare Kingia & Tandara)
We're in awe of how this team committed their time and effort to ensuring the safety of our residents. Thank you for going the extra mile - it made all the difference in this difficult time.

"This team truly went above and beyond during the lockdown of K2. They gave us their complete availability and permission to roster them on shifts at all times so that we could maintain a high level of infection control. They demonstrated how well they work as a team, offering suggestions and procedures for any problem that arose, helping us to find a quick and effective resolution. Thank you to these amazing people for being so patient and demonstrating your flexibility and dedication to SwanCare."

About Feathers:
The SwanCare Feathers Rewards Program celebrates and acknowledges the incredible work completed every day by our staff. Feathers nominations are accepted across seven categories, all based on SwanCare's values of teamwork, customer service and leadership. Any member of our team can be nominated for their outstanding work, acts of kindness, or contributions to projects. Feathers rewards points are accumulated, and staff can redeem prizes from our online prize catalogue.

Nominate someone!
Do you know someone who goes above and beyond, while displaying SwanCare's values? If you would like to acknowledge a colleague's work, submit a Feathers nomination by logging in to Feathers https://swancare.browniepoints.com.au.