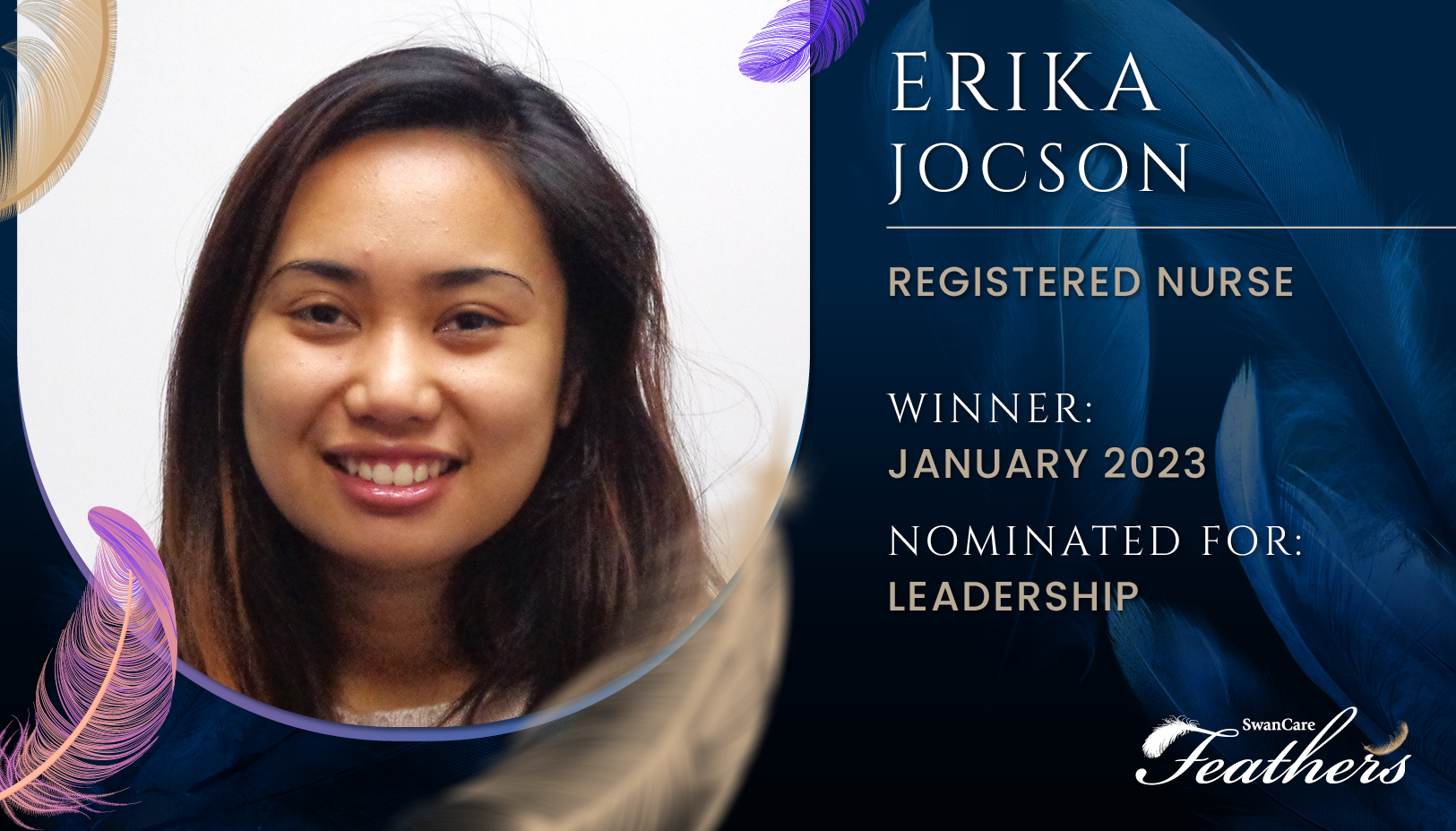 The SwanCare Feathers Rewards Program celebrates and acknowledges the incredible work completed every day by our staff.
We believe everyone at SwanCare is a leader. Being a leader isn't always about having the word "manager" in your role title - it's about setting a great example for others through your compassion, service and care. It's about coming together as a team to work through a challenge. And it's about stepping up for every moment that matters. We see our team show leadership every day - for our residents and each other.

Today, we're celebrating Erika Jocson as our overall Feathers winner for January. Erika went above and beyond her role as Registered Nurse when her manager was on leave recently, and we are so proud of the exceptional leadership she showed.

"Dear Erika, I would like to acknowledge you for supporting Waminda during the absence of a Clinical Nurse Manager. You have shown cohesive leadership by ensuring all staff and residents were kept informed of the COVID-19 situation at Waminda. You showed that leadership is being thoughtful, kind and involved. Thank you and well done."

Congrats, Erika! And congratulations to all our category winners for January!
Category Winners
Compassion: Stephanie Burgess (Community Assistant – SwanCare at Home)

Helping our residents when their mental cognition isn't at its best can be challenging. Yet, Stephanie's incredible compassion and care made a remarkable difference for this resident and his family. Thank you for all you do, Steph!

"My father-in-law was not in a good way when I came to visit recently. When he required personal care, Stephanie came to assist and she was AMAZING! She was so caring and empathetic through the process of cleaning, showering and getting him dressed again. My father-in-law was not entirely cognitive that day, but there were moments where he gained some realisation of what was happening and appeared to be quite embarrassed with the situation. Steph made sure he remained calm and aimed to keep him comfortable and reassured. The efficient but delicate way she dealt with him was very, very much appreciated! Steph, thank you for your kindness, care and professionalism in a potentially confronting situation."

Customer Service: Claire Judd (Receptionist / Administration Assistant – SwanCare Ningana)

It's never easy when a resident passes. But the impact Claire had on this family undoubtedly made this difficult time a little easier to bear. Thank you for your kindness, Claire!

"We recently had a resident in Ningana who was unfortunately only with us for a few weeks before he passed. His son expressed how wonderful Claire had been, both in assisting with his dad's care as a resident and in couriering his personal possessions to the family after he passed. He said Claire had made a difficult time easier with her wonderful customer service. Thanks, Claire!"

Improvements, Innovation & Creativity: Vincenzo Surace (Procurement Officer – Administration)

We appreciate everything Vince does to maintain and improve our beautiful SwanCare facilities. Thank you, Vince!

"Vince has been working tirelessly to install QR codes to all the physical assets around the village and in the care facilities, so they can be used to record information in our asset maintenance register. Because he spends so much time around the village, he's also very observant of everything going on, and reports anything he sees that needs to be improved. Vince brings so many positive attributes to the Facilities, Assets and Capital Works team, which help them achieve their objectives."

Teamwork: Anita Adhikari (Assistant in Nursing – SwanCare Waminda)

We're so grateful to Anita for giving up her break time in service of our residents. Thank you, Anita - your efforts are much appreciated!

"One of our residents is known to be resistant to care, but she was in need of a shower. All our staff were occupied and very busy due to the COVID-19 outbreak, so Anita was asked to help. Although she was on her break, she gave up her time to help shower the resident without any hesitation. What a great example of teamwork she showed in responding to the resident's needs straight away. Thanks, Anita, for your dedication and hard work!"

Team Nomination: Sharleen Mann (Care Services Manager), Maria Pili (RN), Bernardio Solatorio (RN), Ivy Alconaba (RN), Sachreet Kaur (RN), Sheeba Thomas (RN), Kirty Sapkota (RN) & Lila Gurung (RN) – SwanCare Ningana

When our SwanCare teams work together to care for our residents, amazing things happen. Thank you to this whole team - your impact on our residents and their families is immeasurable.

"I just wanted to say thank you to all the wonderful SwanCare nursing staff and carers who looked after me and my mother, allowing me to stay and keeping my promise to Mum. The nursing staff on the ground floor are all wonderful. Big thanks to Bernard, Ivy, Sachreet, Sheeba, Lila, Maria and Kirty, who did the 11-7 shift - they were simply amazing."

About Feathers:
The SwanCare Feathers Rewards Program celebrates and acknowledges the incredible work completed every day by our staff. Feathers nominations are accepted across seven categories, all based on SwanCare's values of teamwork, customer service and leadership. Any member of our team can be nominated for their outstanding work, acts of kindness, or contributions to projects. Feathers rewards points are accumulated, and staff can redeem prizes from our online prize catalogue.

Nominate someone!
Do you know someone who goes above and beyond, while displaying SwanCare's values? If you would like to acknowledge a colleague's work, submit a Feathers nomination by logging in to Feathers https://swancare.browniepoints.com.au.