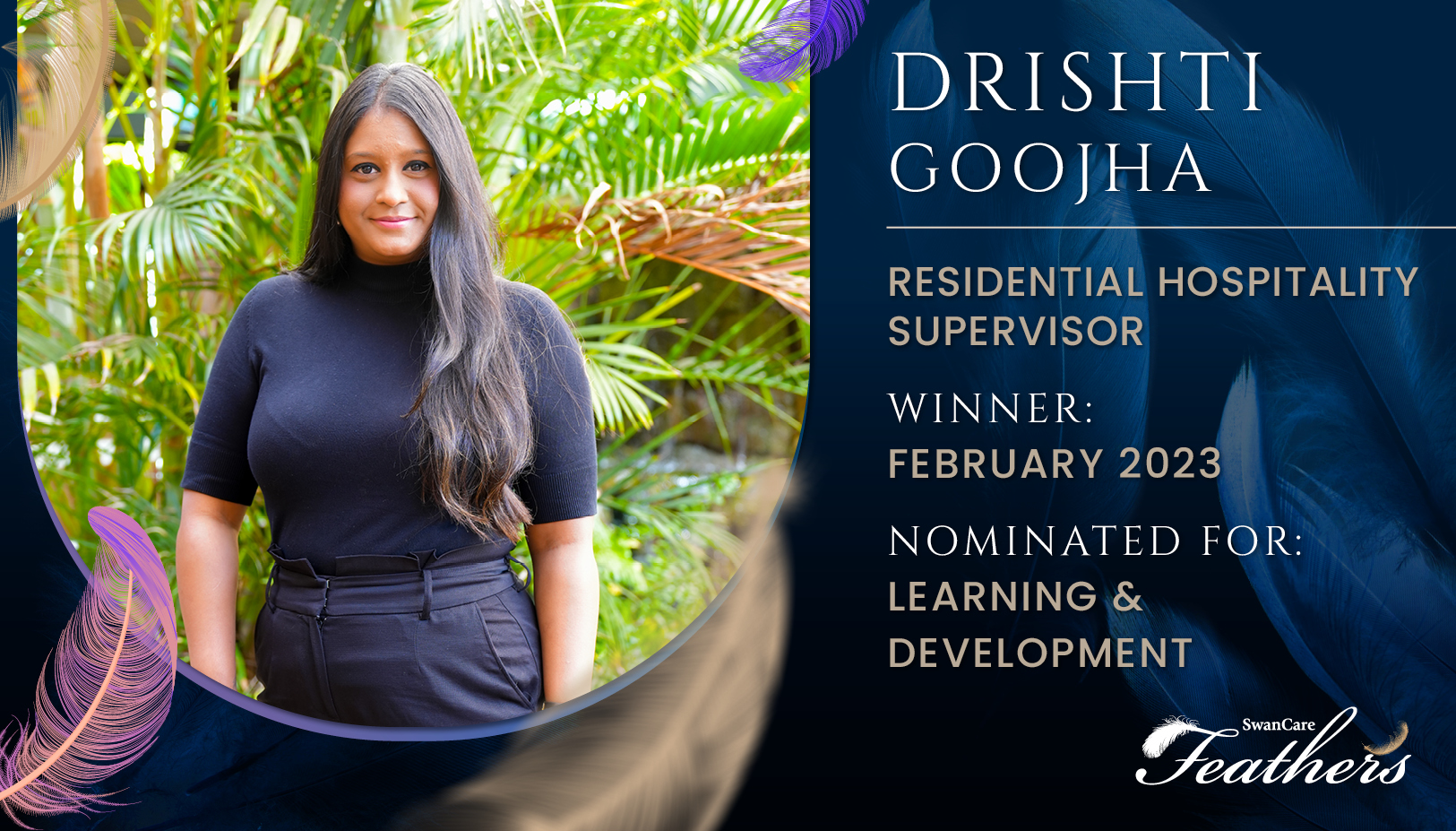 One of the things we love most about our culture at SwanCare is how willing everyone is to learn. Whether it's through our frequent training sessions or simply sharing knowledge with each other, we all contribute to our collective success.
Please join us in congratulating our overall February Feathers winner, Drishti Goojha, for Learning & Development! Drishti joined us as Residential Hospitality Supervisor in March 2022 amid the COVID-19 pandemic. She didn't let that stop her, though, and has made some incredible improvements in our hospitality facilities.
"Since Drishti started as Residential Hospitality Supervisor in March 2022, she has helped implement many new procedures to ensure the Hospitality side in facilities runs more effectively. Drishti has built a great rapport with all staff across the facilities with her friendly and approachable nature. Her major hurdles faced were with the beginning of the pandemic and trying her best to navigate new COVID-19 guidelines. I have spent many hours with Drishti working over the rosters to strategize and move staff around so they can work within a particular building and floor. Drishti has helped reduce food wastage, improved the lunch and dinner services to become more efficient across all facilities and deep dived into improving food preparation and plating."
Congratulations, Drishti! And congratulations to all of our February category winners!
Category Winners
Compassion: Pema Wangyel (Assistant in Nursing – SwanCare Kingia/Tandara)
Even the simplest of actions can make a world of difference in our residents' lives. Thank you, Pema!
"Two residents complimented Pema stating that they had the best shower since they arrived. It was described that there were no words to explain how considerate and how compassionate he was during the whole process, including his way of communication. One resident even stated, 'the best so far'. Thank you, Pema, for making our residents' lives better and being so amazing!"
Customer Service: Mat Allam (ICT Operations Manager – Administration)
What a well-deserved nomination! We feel very lucky to have Mat on our team.
"Mat and his team have always been available to sort out any issues that crop up with IT systems or equipment and always go above and beyond to ensure everything works out. In an ideal world, it would be a smooth process for IT unfortunately most of the time, it is not. Mat always tries his level best to find solutions for these and if they do not work, Mat manages to find alternative options. Thank you for trying to provide great customer service at all times and for being approachable even amidst your heavy workload."
Improvements, Innovation & Creativity: Nancy Kingston (Brand & Marketing Manager – Administration)
Nancy's hard work and creativity have made such a difference at SwanCare - both internally and externally through our fantastic new branding. Thank you, Nancy!
"Nancy and her team have done an amazing job with the new branding of SwanCare. We now stand out from the other organisations and move towards being our own recognisable brand. Nancy has taken great care and attention to detail in producing the vision and purpose statements. All this has been achieved whilst the Marketing team was assisting with COVID-19 related communications and all our social media correspondence. Nancy also always goes above and beyond to assist with our queries on new templates and was very receptive of any feedback at all times. Thank you for all the amazing changes you are doing for SwanCare."
Leadership: Kencho Zangmo (Assistant in Nursing – SwanCare Kingia/Tandara)
Kencho's leadership made a huge impact on one of our residents recently. It's a great example of how our teamwork helps our residents and each other thrive!
"Kencho was able to manage a resident with complex behaviours when others failed to calm and manage his ADLs. It was her confidence, calm manner and understanding that led her to gain trust from the resident. Kencho was also explaining to other staff how the resident can be approached and how to gain his trust. These shared learnings were useful for all staff on the floor and for the resident's care. Thank you, Kencho, for leading and helping all the team members during difficult situations."
Teamwork: Bee-Chin (Janice) Tan (Food Services Attendant – Hospitality)
Janice made such a difference by helping our Social Engagement team prepare for a recent event. Thank you for all you bring, Janice!
"There was an activity 'Chinese New Year party' on Friday afternoon. I was a little worried because I was unable to find more sources or equipment to support this activity. Janice said she would lend some equipment to us when we talked about this event. On Friday morning, she brought equipment for two Lion dances, taught me how to operate the music and even donated one jar of Chinese biscuits for the party. Later, we had a wonderful time with the Chinese New Year party. All of our residents enjoyed the lion dance even though we are not professionals. I knew we wouldn't have had the amazing moment without Janice's contribution. Many great appreciations from the Social Engagement team."
Team Nomination: Usha Khanal (Food Services Attendant), Kamal Oli (Cook), Dhurba Rijal (Chef), Lester Javier (Commercial Hospitality Supervisor) and Kirsty Allin (Hospitality Team Leader) – Hospitality
One of our staff members, Laura, held her wedding in The Club. Her special day ran smoothly as a result of the hard work and dedication of our Hospitality team!
"Laura ordered over 1000 individual items for Dhurba to prepare with the majority being hot food. Dhurba was organised and got all items done exactly on time, receiving multiple compliments from guests. With a small team, Lester set up all the equipment needed for the day and made sure all food was presented well and got out on time. Kamal helped prepare food as well as being a runner helping out at Jarrah Cafe. Usha finished her shift at Jarrah Cafe and came over to help with all the dishes and cleaning up. The event went really smoothly with surprisingly no hiccups. Congratulations to the team for making this event happen!"
About Feathers:
The SwanCare Feathers Rewards Program celebrates and acknowledges the incredible work completed every day by our staff. Feathers nominations are accepted across seven categories, all based on SwanCare's values of teamwork, customer service and leadership. Any member of our team can be nominated for their outstanding work, acts of kindness, or contributions to projects. Feathers rewards points are accumulated, and staff can redeem prizes from our online prize catalogue.
Nominate someone!
Do you know someone who goes above and beyond, while displaying SwanCare's values? If you would like to acknowledge a colleague's work, submit a Feathers nomination by logging in to Feathers
https://swancare.browniepoints.com.au.