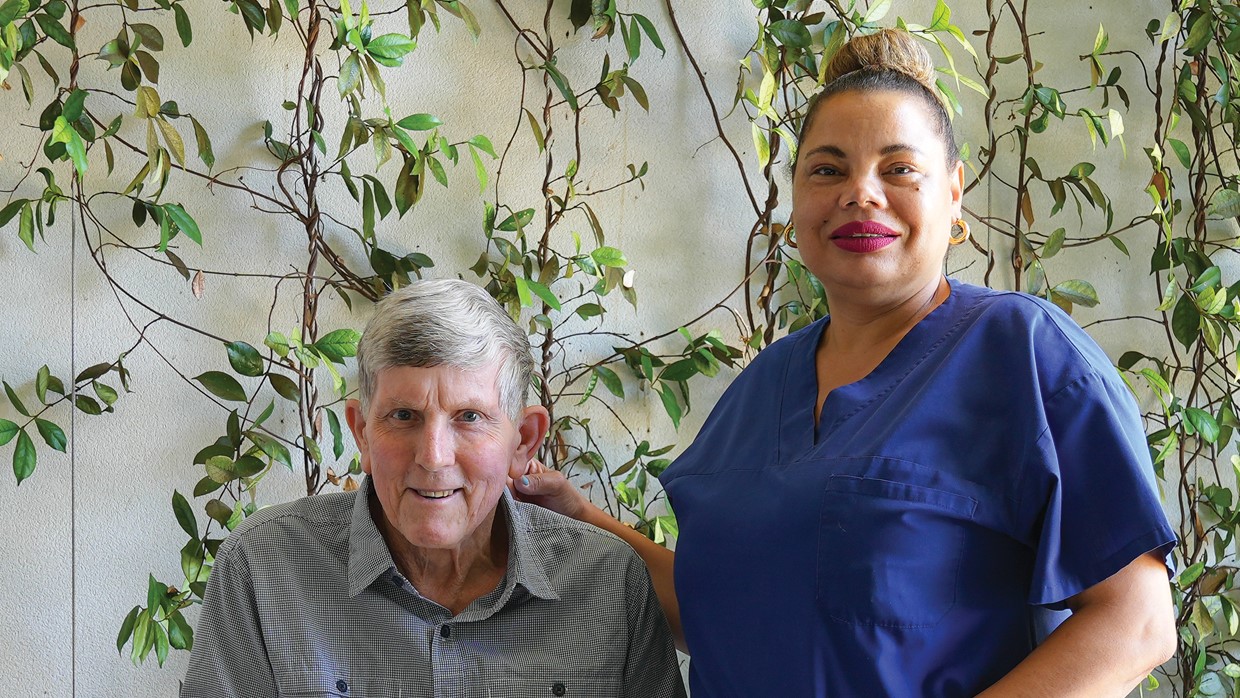 Meeting through SwanCare At Home, retirement living resident John and Community Care Assistant Theresa have formed a beautiful friendship filled with laughter, fun and plenty of adventure. 
Retirement living resident John Swetman utilises SwanCare At Home, a service where his Community Care Assistant, and friend Helen "Theresa" Sans-Souci, provides assistance both inside and outside the home. Meeting through SwanCare At Home, John and Theresa have formed a beautiful friendship filled with laughter, fun and plenty of adventure.

John lived an active life with travels leading him everywhere from Borneo all the way to Germany. Most notably was his 2013 trip to Peru, where he completed the 45km four-day Inca Trail trek in Machupicchu. With a passion for international travel, John was always looking forward to his next great adventure.

Days before his 50th birthday, John received a life changing diagnosis. Parkinson's disease has now been part of his life since 2015, and while it has created its fair share of challenges, John's positivity and great sense of humour ensure he doesn't let much get in his way.

John moved into the Bentley Park village in 2017 before Theresa joined the SwanCare team in 2021.

Theresa says it was her upbringing that formed a passion for care, "Where I come from in Africa, looking after the elderly is not a job, it is simply a part of life. It is in our culture. To come to Australia and make it my career, it's truly a blessing," Theresa said.

First meeting down by the river for a cup of coffee and a chat, the pair said it didn't take long for their friendship to blossom. "I love that I can just be myself around John," Theresa said. Now the duo can be found just about anywhere, from historic museums, to Kings Park, even visiting John's mum for a cuppa and sandwiches at her house.

They both agree the Aviation Heritage Museum was a standout experience. John said it brought back memories of his time in the military where he was once offered to go for a ride in a chopper, like one they saw on display. Most recently they visited the Canning River Eco Education Centre where they enjoyed learning about the local wildlife and bush birds.

"If John is struggling to walk or if the weather is bad, I will drive us around so he can admire the scenery from the comfort of my car. It is sort of like a 'drive through' excursion," Theresa explained, "Sometimes we go through a list of locations provided by SwanCare and we'll organise an outing from there. Although other times, like today, we just wing it."

"I like to get her to surprise me," John added.

Using his phone, John can maintain his communication. On an app titled 'Speech Assistant' he will either type out a specific message or tap a button to play an automated voice message. John demonstrated by playing some examples such as, "I have Parkinson's disease and I use this app to talk. I might make mistakes. Please be patient."

Just as important, the app also logs some of his more popular requests. After a quick tap of a button, the voice called out "Carrot cake and a mocha please." Theresa and John both laughed.

When discussing John's speech impairment, both are passionate about combatting the stereotypes associated with having a disability. "The minute someone sees another person with a disability, they act like that person isn't human," Theresa said, "Sometimes I notice when people discover John has a problem with speech, they shy away from saying 'hello,' but that is exactly when you should embrace him and make him part of it. You must break down those barriers."

They have been working together for over a year now, but both agree their friendship goes beyond being a job, "When my brother passed away last week, I did not come to work. John sent me the sweetest message. It was exactly what I needed. At the end of the day, you cannot stop the humanity, we're always there for each other," Theresa said. John nodded in agreement.

When asking John what he liked most about Theresa, it was simple. John smiled, "She is a fun person to be around." When he isn't exploring around Perth with Theresa, John can be found enjoying a coffee with friends at Jarrah Café and hanging out at home with his cuddly 18-year-old cat, Mia.

It is the friendly community at SwanCare that means a lot to him. "That's what I like most about living here, everyone is so nice," John said.

The pair are excited for their next outing with plans to tour the Perth Mint.

Thank you, John and Theresa, for sharing your adventures and friendship with us. We are so proud to have you both part of our SwanCare community.