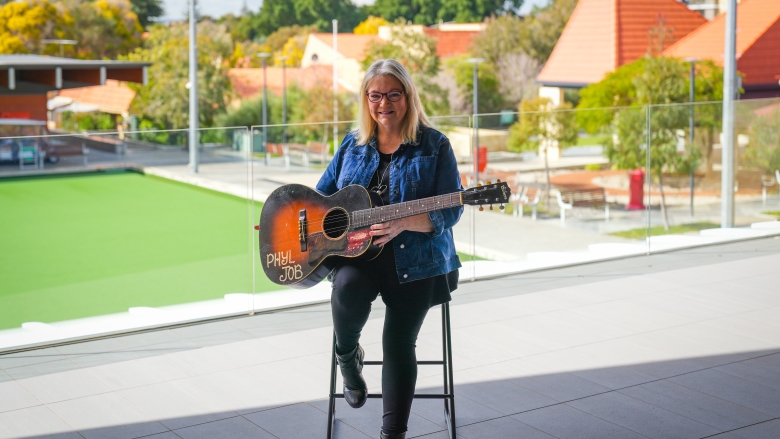 Retirement living resident, Lesley Ferguson, opens up about her life on the stage.
Like a lot of us, retirement living resident, Lesley Ferguson, has a deep love for music, however not many of us can say we made it into our career.

Reflecting upon her life on the stage, Lesley attributes a lot of it to her childhood.

"Both of my parents were professional entertainers, mum as a singer and guitarist, and my dad as a mandolin player," Lesley says, "Additionally, both sides of the family were musical, so there was a variety show and singalong at every family party!"

Being raised in a music-filled home played a significant role in developing Lesley's talent, so much so that by the young age of four, Lesley was already singing along to her mum's harmony. Upon discovering her vocal talent, Lesley later began exploring musical instruments starting with classical guitar at age ten.
"I began building a repertoire and had my first paid performance at 11 years old."

While she certainly felt the butterflies in her stomach on this day, Lesley says the support from her family made all the difference in making the stage a happy place to be, "I was nervous of course, but this was eased by an encouraging smile and wink from my dad."

Shortly after Lesley found comfort and joy from being on stage, and with a newfound burning passion for performing in front of a crowd, she felt inspired to reach a much wider audience.

'Stars of the Future' was a Channel 7 television show which showcased musical performances of talented, young Australian's. Lesley was first featured on the show at age 12 and then again at 14.

"I won a Vox-Adeon music store voucher and a tape recorder," Lesley explains, "Winning the tape recorder was most exciting because I'd been saving my 50c weekly pocket money and birthday money to buy one! It meant I could record my singing, play it back and hone my skills."

Up until then Lesley's singing teacher had been none other than her very own mum, although at age 15 she decided to invest in professional lessons with a trained vocal coach, determined to further perfect her craft.
"Although singing was a hobby of mine, I'd always planned to have a musical career."

Lesley's experience goes beyond being a solo artist, starting with a pop band at age 16 and later joining an acapella group. Now she is one half of a harmony duo with guitarist, Tom. The pair met after Lesley saw his band perform and they decided to work together, "I really enjoy creatively collaborating and having a laugh with fellow singers and musicians," she says.

When discussing what it is about singing that she loves so much, Lesley refers to the powerful impact music can have, describing it as a physical and emotional experience both for her and those listening.

"Being able to 'tune in' and feel the story within a song is incredibly moving. I've sung at many wedding ceremonies during which the parents or grandparents of the couple get teary as the bride walks down the aisle, this can make it difficult for me to keep my empathy in check so that my voice doesn't falter."

"At other times it's so much fun when people are dancing or singing along, sometimes I notice people quietly enjoying themselves while reminiscing to a favourite song."

"I also love the feeling of vibrations from my chest to my throat when I'm singing, the sounds created – especially when harmonising. For me, it's all such a joy to see and feel."

Now in her retirement, Lesley continues to embrace her love for singing with the support from fellow residents at SwanCare, "Not long after moving in I was asked to sing at a neighbor's party, and I've since sung at a number of events in the village, including Melbourne Cup lunches with a pianist and our Christmas street parties for example."

"When the weather is nice, sometimes Tom and I will do an outdoor concert in the village. Together we sing a wide variety of songs, but we'll play whatever we expect will suit the ages of the audience and type of event."

When it comes to her personal taste in music though, Lesley is not picky, "I enjoy so many types of music – pop, ballads, rock, love songs, some types of jazz and blues. I'll typically choose from those for my repertoire."
As for life at SwanCare, Lesley says there's a lot to love, "I moved in on my 55th birthday, the biggest birthday gift ever!"

"There is such a happy, friendly vibe in the village, and I love the wide variety of activities. I like feeling safe, supported, and building friendships too. I also love that I can enjoy the social lifestyle but when solitude is desired, it's respected."

Thank you, Lesley, for sharing your story with us and filling the Bentley Park village with joyous tunes!