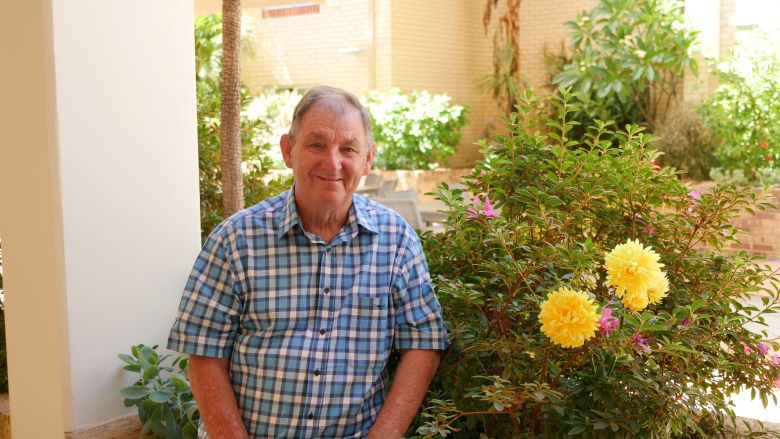 To commemorate the 50th anniversary of the end of Australia's involvement in the Vietnam War, we are revisiting this Tidings story from last year about resident Vietnam veteran, Leroy McDorman.
Anzac Day is an important commemoration for residents at SwanCare. Vietnam veteran, Leroy McDorman, speaks about why we should continue to honour the day and keep the spirit of the ANZAC's forever young.

When Earl 'Leroy' McDorman was called up for National Service, he knew he would be going to war, but he looked at it as a duty to his country and as a bit of an adventure.

Leroy was born in the US and spent the first three years of his life there before moving to Perth with his mother. Growing up in Victoria Park, he finished school and decided he wanted to work in a trade and ended up being a butcher.

Leroy loved his job, but when conscription began and his number was called, he did his duty for Australia and went to Vietnam to serve his country. "I had my number pulled out of the barrel, it was the only time I've ever won the Lotto," laughed Leroy. "I joined the army in 1969 and by 1970 I was in Vietnam. A lot of people didn't like the idea of National service, but I didn't go begrudgingly, it was something different and a bit of a challenge."

Vietnam was quite the experience for Leroy who arrived and was promptly ordered to go home. "I was very fortunate, when I got to Nui Dat in Vietnam, I'd just had my legs stripped of varicose veins, so they took one look at me and told me I'd be going straight back home," said Leroy. "That didn't happen, instead I was given a job as a mortar store man and I only had to do six patrols in the year I spent there."

The patrols that Leroy was completing were mentally draining. "The patrols were scary, because of the unknown," said Leroy. "For me personally it wasn't too demanding and overall I was fine, but I know that lots of men from the Vietnam War struggled when they got home for various reasons, but I was very fortunate."

The Vietnam War was and still is quite controversial in the minds of those who know about the war. "I look back on it now and I don't think it's a war that should have occurred," said Leroy. "It was controversial, and I don't really believe we should have been there."

When Leroy returned to Perth he reunited with his wife Sue, went back to being a butcher for work and lived a quiet life. Throughout the coming years they had two daughters and Leroy joined his local RSL. His ongoing commitment to and love of the club led to him becoming President of the Victoria Park - South Perth and Districts RSL Sub-Branch in 2017. "I think clubs like the RSL are still so important," said Leroy. "They give people that sense of connection. I had a few bad moments when I got back from Vietnam, but I managed, because places like the RSL were there to support me."

The RSL is looking for younger members to keep the tradition going. "It's harder and harder for us to get younger members," said Leroy. "It's the same with all service clubs, life is different now, people are so busy and a lot of the connections are made online. But there's still a place for us and the support we provide for our veterans is wonderful. The RSL is a real advocate for veteran's health, their mental health and their overall wellbeing."

Leroy has lot of wonderful memories from the RSL. "It's a place for veterans to come together," said Leroy. "I had friends in the war that I'm still friends with now, that shared experience never goes away. We all really enjoy each other's company."

The Club usually holds an Anzac Eve service which is very well attended, but because of the pandemic this years' service will be for members only. "Anzac Day is a very an important day," Leroy said. "It's important not to glorify it, but we need to keep the ANZAC spirit alive in young people and honour the fallen for the sacrifices they made. We have about 130 members at the club and we try and look after our veterans as much as we can."

Leroy and Sue moved to SwanCare in November last year and said they are loving the lifestyle they're afforded in the Village. "We're settling in very well, it's a fabulous place," Leroy said. "The people are great, we can play lawn bowls if we want to, go for a swim, there's wonderful facilities and a lot of support we can call on if we need it. I don't have to worry about doing any maintenance or the gardening, we've got everything we need and more here."

Leroy has a tip for those looking at moving into the SwanCare retirement village. "I highly recommend it, but my tip would be get in early, I wish we'd moved in 15 years ago. We have privacy when we need it and support when we need it, it's the perfect mix for a happy life."

Thank you for speaking with us about your service, Leroy. Lest we forget.