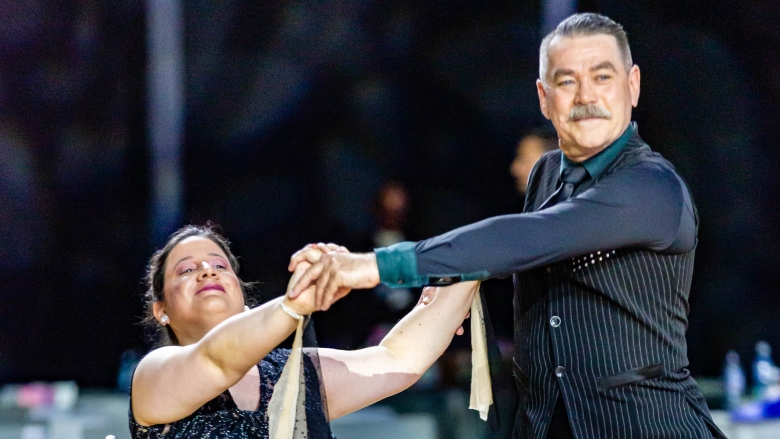 Retirement living resident, Cheryl Hicks, shares her history-making community connection.
Retirement living resident, Cheryl Hicks, has always lived an active life, and after hanging up her tennis racquet and hockey stick, the search for a new form of exercise led her to discover a unique sport with a powerful community behind it.

"When I moved house to South Perth, I found my local senior citizens group which offers a range of social and physical activities, including Ballroom Fit," says Cheryl. Ballroom Fit is a dance school with a vision to create a healthier and more inclusive world through Dance.

They specialise in classes for seniors and people living with a disability, including Chair Dancing for seniors, Ability Dance for people living with an intellectual disability, classes for vision impaired people and wheelchair dancing, known as Para Dance.

"I started dancing there in 2018 but was unable to continue due to back pain from my osteoporosis," Cheryl explained.

Whilst health issues meant dancing was no longer an option for Cheryl, her newfound passion for the Ballroom Fit community was not something she was willing to give up. After realising she could remain involved in the sport without having to step onto the dance floor, Cheryl jumped at the opportunity.

"I started volunteering by doing some reception work and administrative tasks where greeting dancers was a key part of my role. I found I was able to relate to them and if they felt upset and ever needed support or a helping hand, I could provide those services," she said.

Cheryl has now been a valuable volunteer at Ballroom Fit for over five years as the schools meet and greet person, leading her to achieve a City of South Perth Volunteer Award and Department of Communities Volunteer Award.

"I've had a fairly fortunate life and was given advantages not everyone else had. I've volunteered for most of my life as I think it's important to give back and ensure the next generation have that kind of support within their community."

"Seeing the change in people is my favourite part about volunteering at Ballroom Fit," says Cheryl, "At first, they come along and they're nervous. Quite often they say, 'I don't think I want to do this,' because it's something different, it's a new challenge in an unfamiliar environment, but it doesn't stay that way for long."

"There are dancers who have spina bifida, cerebral palsy, autism, but that's not something we usually get into. We don't need to ask; our focus is on bringing joy to their lives through dance."

Darryl Davenport, Principal of Ballroom Fit, says Cheryl's volunteering has enabled greater community participation for many dancers, helping to make their classes accessible and inclusive for all.

"Her empathy and compassion to assist those that require additional time has helped students to feel comfortable and welcome in the classes. She has assisted dancers that would otherwise find keeping up with the rest of the class too difficult, feel comfortable to be included in these community events," says Darryl.

Recently Ballroom Fit made history after some of their dancers were selected to compete at the Tokyo Para DanceSport International Competition this year. Para DanceSport originated in Sweden in 1968, however only found its way to Australia five years ago.

The sport is widely practiced in 30 countries with Western Australia being home to some of the finest Para dancers in the nation, including Ballroom Fit dancers Danielle and Amanda (pictured above), who are part of the first Australian team to compete in this International Paralympic Committee event.

"This competition is a major opportunity for Australian Para dancers to showcase Para DanceSport as an adaptive sport for people with disabilities," Darryl explains, "This trip is going to be a tremendous experience and an event that will propel Para DanceSport further in Australia."

Cheryl says she is also extremely proud to be part of the community that made it possible and hopes this paves the way for future dancers with disabilities.

"It's incredible seeing the difference dancing makes to people's lives, it provides a sense of belonging and leaves everyone with a smile on their face," says Cheryl, "Hopefully there will be many more dancers like Danielle and Amanda to follow."

When she isn't busy volunteering, Cheryl can be found enjoying her retirement at Bentley Park.

"I love the lifestyle, it's very quiet here but there's also so many things I can participate in. It's a joy to have choices because as you get older, you don't always have them, there's plenty of choice here!"

Thank you, Cheryl, for allowing us to shine a light on the great work you do for the wider community.

We believe that these types of connections both inside and outside of our own village are beneficial for everyone at all stages of life. We wish the many dancers at Ballroom Fit every success in their upcoming competitions!