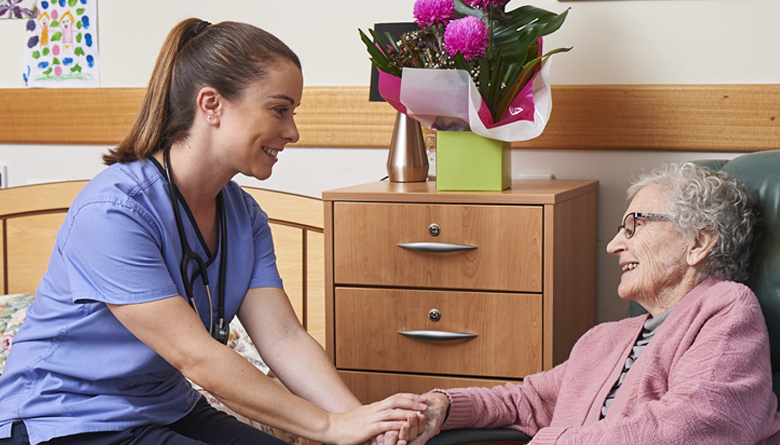 Ever considered a nursing career in Aged Care? There are many reasons why we think you should join us. Read this story to find out why!
Are you a purpose-driven Registered Nurse looking for a change of pace? Why not join us at SwanCare? You'll be glad you did!
If you've never considered a career in aged care before or you're looking for a fresh start, here's a few reasons we why we think you should join us:
Delight in the diversity of your everyday tasks.
Because aged care nurses work with patients over a long period of time, your daily routine is vastly different to what you'd find in a hospital environment. So, while you'll still perform fundamental duties, such as checking vitals, changing dressings and administering medication, you also get to enrich our residents' quality of life, such as celebrating birthdays, walking in the garden and attending social events.
Get better outcomes for your patients by being part of a united care team.
At SwanCare, our aged care nurses contribute more holistically to our residents' care. We have a dedicated team of allied health professionals who you'll work alongside to get the best outcomes for your residents. Collaborating with our experts opens up opportunities for you to learn about other aspects of healthcare and clinical services, including physiotherapy, nutrition and counselling.
You'll find the relationships and stories immensely rewarding.
If you ask any of our aged care nurses what they love most about their job, chances are, they'll tell you it's the relationships they form with their residents. You'll cherish hearing the stories that history forgot straight from those who lived them. Bringing dignity and expert care to these people in the latter phases of their lives is an incredible calling, one that you'll feel privileged to share.
Enrich lives for a living in a warm and welcoming workplace.
SwanCare is an organisation built on people looking after people. As one of our Registered Nurses, you'll see the difference you make every day in the smiles of our residents, our people, and in our collective success. Here, you can design a career that suits you and your lifestyle, with casual and permanent positions available, attractive salary options and amazing benefits. When you join, you'll instantly feel supported by our world-class work culture, and you'll love working alongside a supportive team to provide exceptional care.
Ready to change your career and enrich lives for a living?
Click here to visit our current vacancies page to apply today
.