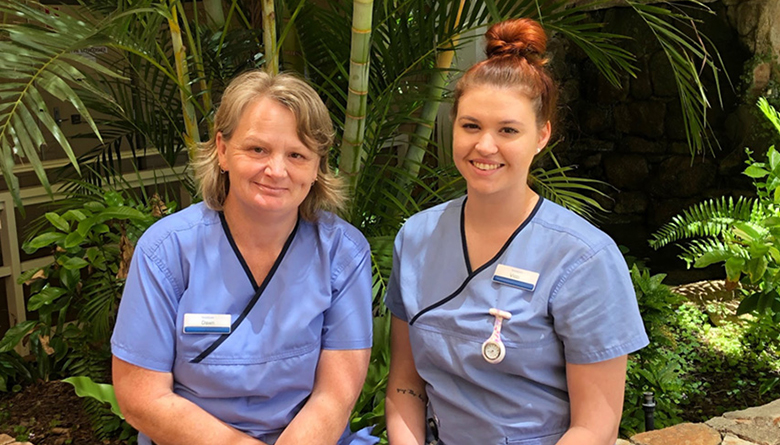 Find your Future at SwanCare: Apply now for our Registered Nurse Graduate Program - July 2022 intake.
Are you a recently graduated Registered Nurse looking for an exciting new vocation?
Come join us at SwanCare and discover boundless learning opportunities, meaningful relationships, and the warmest, most welcoming workplace you'll ever find!
We are now accepting applications for our Graduate Nurse Program. Starting July 2022, you'll embark on a 12-month career journey, working part-time as a Registered Nurse at SwanCare Bentley Park. You'll also complete a Graduate Certificate in Clinical Nursing along the way through the University of Notre Dame.
Recently graduated nurses often find the transition to a fully-fledged Registered Nurse difficult. Our Graduate Nurse Program provides you with a structured, safe and supportive environment that eases you into your rewarding career. The program's online delivery accommodates flexible study alongside your rostered hours, and of course, you'll receive the support and guidance of our expert clinical nursing team along the way.
You'll also have access to the full range of employee benefits we offer, including ongoing training and development opportunities, salary packaging options, exceptional on-site facilities, entry into "Feathers" - our monthly recognition program, and much more!
We know aged care may not be the first choice for some, but anyone who witnesses the passion and dedication of our SwanCare team can see that the leap of faith is one worth taking.
Still need convincing? Here are some more insights into why you'll love a career at SwanCare from the people who know us best - our team!
Isser, Registered Nurse: "There's a misconception among some graduate nurses that they'll lose skill or be stagnant in aged care compared to being in a hospital. I thought this, too, but once I was here, I realised that being a nurse in aged care is really challenging. As a resident's needs increase, their healthcare becomes complex, and you have the opportunity to upskill."
Sharleen, Operations Manager: "The aged care industry is undergoing unprecedented changes. We're shifting towards a more person-centred care approach, which places our residents' preferences at the heart of everything we do. Although there are inevitably challenges associated with change, there has never been a more exciting time to enter aged care. These changes require every single team member to be open to learning."
​John, Food Service Attendant: "Don't be afraid to ask questions! No one expects you to hit the ground running. At SwanCare, we have a buddy system and run a range of professional development courses; there's time to get familiar with processes and plenty of opportunities to upskill."
Danny, Registered Nurse: "In a hospital setting, you can only care for the patient for a few hours. In an aged care environment, you learn to notice people. We focus on their character - are they happy, sad or going through a difficult time? That's what our role must be… to support them throughout that time."
Dawn, Registered Nurse: ​​"People don't recognise how diverse our roles can be. It's very interesting. It's more than just wound care or distributing medication. We play a key role in the residents' overall quality of life."
There are countless more stories of why our people choose us, and more importantly, why they stay with us. They love making a difference in the lives of Western Australia's seniors, building meaningful connections within our community, every day.
At SwanCare, everyone who joins us instantly becomes part of the family. And we know you will, too.
We hope you'll choose to begin your nursing career with us, and we look forward to welcoming you.
Apply now for the July 2022 intake of our Registered Nurse Graduate Program.