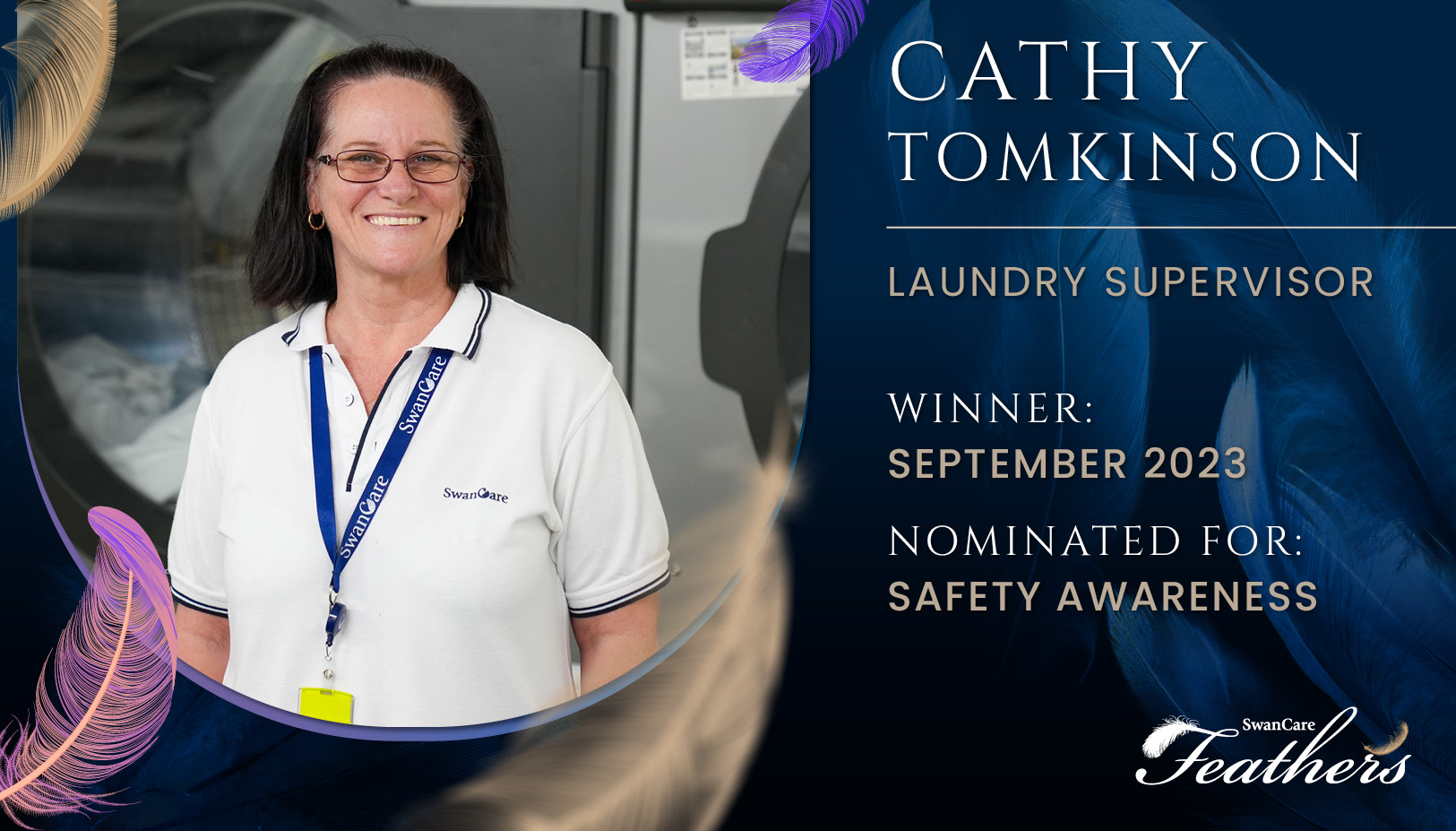 It gives us great pleasure to announce our Feathers winners for September!
We would like to congratulate Cathy Tomkinson as our overall September Feathers winner. Cathy is our Laundry Supervisor in the Hospitality department.
"Cathy has been a strong advocate for infection control when it comes to handling foul linen. Cathy has spearheaded the development of an ELMO module with Visva to help educate staff on the procedure of how to correctly tie and handle foul linen bags. This will help increase safety awareness and infection control for staff, which is vital when working in aged care and dealing with those most vulnerable."
Cathy, you are a great leader, and we are very proud to have you on the team.
Cathy isn't the only role model among SwanCare, there are many people we would love to acknowledge for their efforts, including this month's category winners. Great job everyone!
Category Winners
Compassion: Sujata Rana Thapa (Assistant in Nursing, SwanCare Ningana)
"I would like to award this feather to Sujata for always being compassionate to the residents. On 31st August, as soon as we started the shift, she saw one of the residents had soiled his clothes. She prioritised him over other tasks in the floor, gave him a shower immediately and changed him into a new set of clothes and continence aid. I would like encourage Ms. Sujata to continue letting her compassionate nature shine through."
Sujata your caring nature is incredibly admirable, and we appreciate everything you do to support our residents.
Customer Service: Poojan Mishra (Assistant in Nursing, SwanCare Kingia & Tandara)
"Poojan has made a particular effort to help my mother, Pam, to adjust to the difficult transition from home to residential care (this was very hard due to her dementia). She has spoken with me on a number of occasions in order to determine how best to engage Mum."
Thank you, Poojan, for always putting 100% into your work, it is fantastic to receive such great feedback from resident families.
Improvements, Innovation & Creativity: Steve Meeks (IT Support Officer, Administration)
"Steve successfully found a new e-waste partner. He has gone above and beyond to find a suitable partner that not only saves costs for SwanCare, but securely and safely destroys old equipment. With cyber security at the forefront of our minds, this certainly aligns with the direction of SwanCare - and all done without any requests! Well done, Steve!"
This is initiative at its finest, what a great achievement Steve! Thank you for continually looking to improve and innovate behind the scenes at SwanCare.
Leadership: Sahara Bhetwal (Registered Nurse, SwanCare Ningana)
"After 9:00pm there are only 2 AINs rostered on the floor. When both AINs need to assist two residents, Sahara, a registered nurse, ensures the resident's safety by answering the bells, toileting the residents and also checking on residents who have a high risk of falls and absconding. Sahara helps in feeding during the dinner which really helps our workflow, as we can actively check on residents who have dinner in their room. Most of the residents need supervision because they can choke while eating their food."
Thank you, Sahara for your dedication and commitment to your work. The residents are lucky to have you, and so are we!
Learning & Development: Michael Felquin-Ozanne & Swapna Yarraguntla (Chefs)
"I wanted to take a moment to express my heartfelt appreciation for the remarkable dedication and teamwork you have exhibited recently. Your enthusiasm for cross-training between Pastry section and Main section and the collective effort you have put into improving productivity and efficiency within our team has not gone unnoticed.
It's evident that you are committed to expanding your skill sets and knowledge which not only benefits you individually but also contributes significantly to the overall success of our department. Additionally, I want to acknowledge the exceptional support you provided when one of our team members was on holiday. Your willingness to step in and ensure that operations continue seamlessly reflects your dedication to our team's success. This kind of teamwork is the cornerstone of a thriving and dynamic work environment.
Your proactive approach to enhancing your skills and your unwavering support for each other exemplifies the values and culture we strive to cultivate within our team. It's this collaborative spirit that sets us apart and makes us a highly effective and cohesive unit. I genuinely appreciate your hard work, positive attitude, and commitment to our collective goals. Please know that your efforts do not go unnoticed, and they contribute significantly to our department's overall success."
What incredible feedback Michael and Swapna! We are honoured to acknowledge and celebrate your work, thank you.
Teamwork: Jovy Tesani (Care Services Manager, SwanCare Kingia & Tandara) & Shangrila Guilas (Roster Coordinator, SwanCare Kingia & Tandara)
"Jovy and Shang have worked really hard to get Kingia and Tandara ready to meet the care minutes for AN-ACC. This involved juggling a lot of RCF change of shifts demands and adjusting timings. They were trying their level best to meet the minutes and at the same time manage efficiently so the business is sustainable. It was no easy task because it impacted more than 150 staff. There were back-and-forth emails, clarification and face-to-face meetings with payroll as well as every single staff member to make sure staff were happy with the changes. Jovy said that they also prioritised the staff's family commitments so that it worked for everyone. It was not easy, yet they managed to get it done. They showed great teamwork, compassion for staff and a commitment to do right by the organisation. You are assets to the organisation. Thank you both."
Thank you Jovy and Shangrila, we agree you are first-class assets to SwanCare!
Team Nomination: Sogianee Ramsamy (Food Service Assistant), Swapna Yarraguntla (Chef), Michael Felquin-Ozanne (Chef), Robert Menzies (Cook), Adharva Karanayil (Food Services Assistant), Rachit Patel (Sous Chef), Prakask Gurung (Food Service Assistant) & Lovish Bhatia (Food Service Assistant)
"I wanted to take a moment to express my heartfelt appreciation for the incredible effort and dedication exhibited by the MPK kitchen team in creating delightful new morning and afternoon tea options for our residents. Over the past few weeks, I have had the privilege of witnessing firsthand the innovative and thoughtful approach our kitchen team has taken in revamping our offerings. Their commitment to crafting a diverse and appealing menu has elevated our residents' dining experience. I am continuously impressed by the team's attention to detail, the quality of the ingredients used and their ability to cater to a variety of tastes and dietary preferences. They ensure that our residents start and end their days with delicious and nourishing options, it is truly commendable.
In light of their outstanding contributions, I would like to nominate our kitchen team for recognition and appreciation. Their unwavering commitment to enhancing the lives of our residents through culinary excellence deserves acknowledgment."
We absolutely agree, what a dream team to be proud of. Thank you all for your hard work and dedication.
About Feathers
The SwanCare Feathers Rewards Program celebrates and acknowledges the incredible work completed every day by our staff. Feathers nominations are accepted across seven categories, all based on SwanCare's values of teamwork, customer service and leadership. Any member of our team can be nominated for their outstanding work, acts of kindness, or contributions to projects. Feathers rewards points are accumulated, and staff can redeem prizes from our online prize catalogue.
Nominate someone!
Do you know someone who goes above and beyond, while displaying SwanCare's values? If you would like to acknowledge a colleague's work, submit a Feathers nomination by logging in to Feathers
https://swancare.browniepoints.com.au.