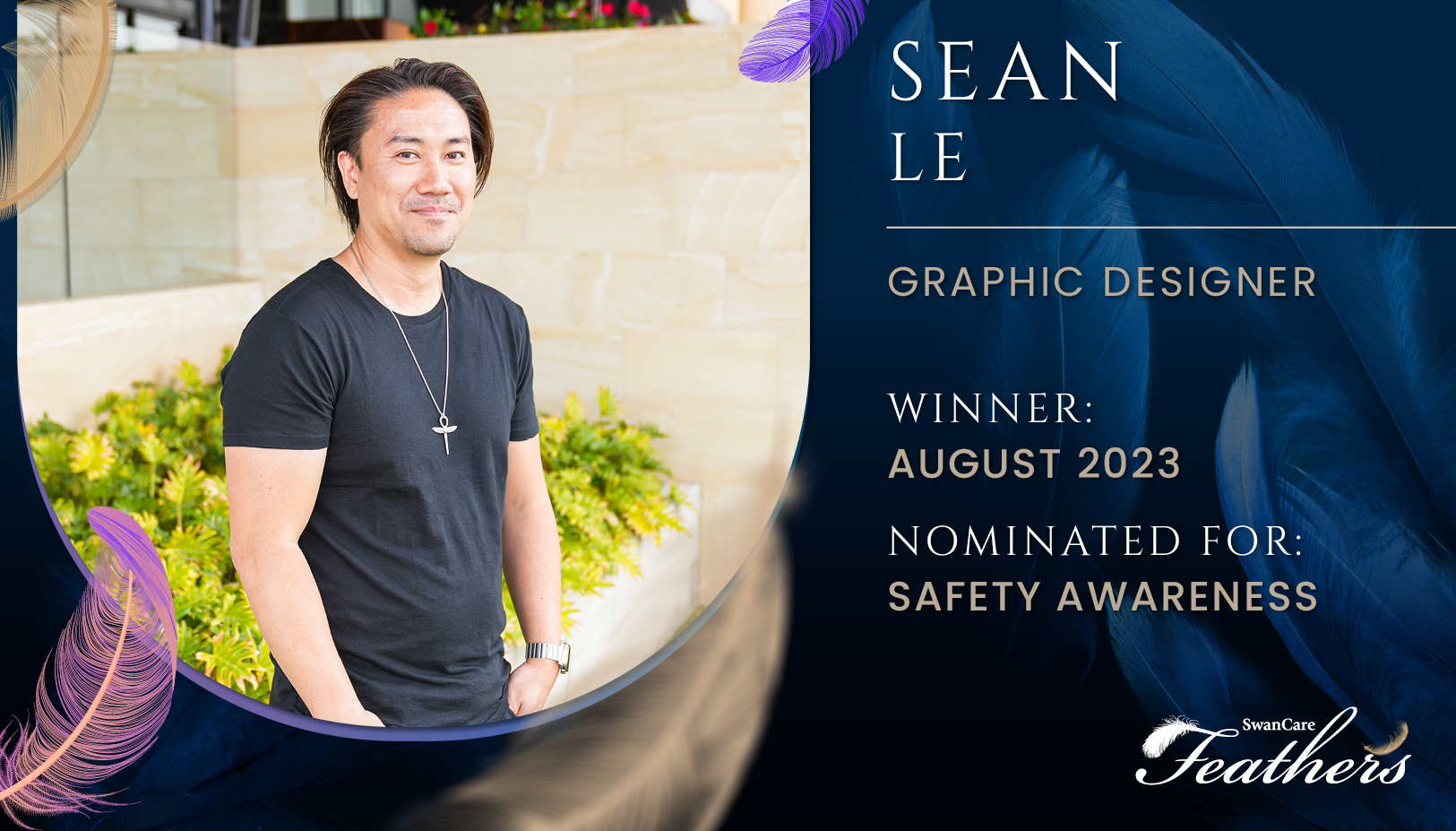 It's time for our August Feathers Winners to stand up!
We love this time of the month when we publicly celebrate our SwanCare family's exceptional work. Our people are the heart and soul of our business and it's important to us that we share with everyone how their roles play such a significant part in the lives of not just the residents and family of SwanCare, but also their peers and the wider community.
We are happy to award Sean Le as our overall August Feathers winner. Sean works in the Brand and Marketing department as a Graphic Designer.
"Sean noticed a resident on Solandri Ave struggling to get past a privacy screen with her walker. Without hesitation, Sean went to assist Audrey in securing the screen open. He noticed the previously used zip ties had disintegrated and that part of the base was broken, posing a safety risk. Sean identified the risk and secured the screen to the best of his ability with limited supplies, advised Maintenance and put in a maintenance request on behalf of the resident. Audrey was very grateful for the assistance from a friendly face. She relies on her walker for balance, and Sean knew that she would not be able to use both hands to secure it herself. Well done Sean, your willingness to go above and beyond in your role is admirable."
Sending a huge congratulations to you Sean from the whole team at SwanCare!
We would also like to acknowledge the following category winners. Every day you come to work you are making a significant impact on the lives of many. We cannot thank you enough for all you do.
Category Winners
Compassion: Pradeep Shrestha (Food Service Assistant, Hospitality)
"I want to express my sincere appreciation for Pradeep's outstanding efforts and unwavering perseverance, especially during the recent food drop event and the challenges he faced in remaking the food. On his days off, Pradeep agreed to cover the Team leader shift. While doing his deliveries, the rapid door at MPK closed and tipped the hot box, spilling the next day's lunch meals on the floor. Pradeep cleaned what was spilled while also doing his team leader shift. Pradeep managed to cover a shift for the floors, assist the carers with missing food items during dinner service and remake all of the food so that the chefs were not heavily impacted the next day. He stayed back late to make the lunch food and left very minimal work for the chefs to remake. He didn't want anyone to struggle the next day when the MPK team started their shifts or cause any delay in the service for the residents.
Your dedication and commitment did not go unnoticed Pradeep. Despite the difficulties you encountered during the recent shift your positive attitude and hard work shone through, making a significant impact on our team and the overall outcome. We didn't receive a single complaint about the food or any missing food items. Your continuous ability to adapt, problem-solve and maintain a high level of motivation truly set a commendable example for all of us. Thank you, Pradeep."
Wow Pradeep, you've really demonstrated the incredibly high standards you instil in your work, thank you so much.
Customer Service: Tahlia Ince (People & Culture Assistant)
"Tahlia has recently taken on WH&S, providing support to Jacqui - WH&S Manager. A new WH&S committee was formed, and Tahlia has gone above and beyond to assist in this area. Tahlia organised a 5-day training session for representatives whilst balancing her P&C workload. She manages communication amongst the committee, arrives to work early to set things up, and arranges morning teas and lunches. This is on top of completing general administrative tasks such as making up packs and printing etc. Tahlia, your hard work and commitment is very much appreciated and it's an honour to watch you continue to grow and develop. Keep up the amazing work."
Tahlia you are a great asset to the team, we're so happy to have you in the SwanCare family.
Leadership: Maribel Schofield (Hospitality Team Leader) & Evelyn Tietz (Senior Food Service Assistant, Hospitality)
"Both Bella and Evie have been stand-out performers at Waminda when it comes to leading the team in day-to-day food service. Recently there have been sick callouts and staff shortages due to the flu, and both Evie and Bella raised their hands to help cover extra shifts, in particular the evening Team Leader shifts. This has provided a lot of comfort knowing that evening service can continue to run smoothly under the guided eye of such experienced Team Leaders. Thank you for your willingness to lend a hand."
Bella and Evie, your dedication to your work is admirable, we appreciate your unwavering care and support for the residents and team at SwanCare.
Learning & Development: Carole Balchand (Registered Nurse, SwanCare Ningana)
"Martin (ECU Student) recognises Carole for offloading her experience on resident care and healing (especially on wound care) on to us as part of our education. Her teaching style was easy to understand and very in depth."
Carole your knowledge and expertise is so valuable, your contributions to SwanCare are significant in the future development of our organisation, so thank you.
Recognising Others: Keenan Redwood (Roster Coordinator, Hospitality)
"As hospitality roster coordinator it can be very difficult to find cover for last-minute callouts, especially when many people have taken holiday leave at the same time. Keenan often must deal with sick callouts from the second he walks in to work at 7am. When he has been unable to find immediate cover, he has consistently stepped into the shift and worked for a couple of hours either washing dishes or setting up for meal services until someone can make it in to finish the shift. This goes above and beyond Keenan's duties all in an effort to make sure that hospitality services continue to move smoothly, and residents' meals aren't jeopardised. Thanks for all your hard work, Keenan!"
We're so lucky to have you Keenan, your efforts are very much recognised, and we cannot thank you enough for your continued hard work and commitment to your role at SwanCare.
Teamwork: Scott Arkwright (Maintenance Officer)
"Over the past few weeks, Scott has been filling in for Willem and managing the unit refurbishments in the village, whilst also performing his own job as Maintenance Officer. During this time, nothing has been too much trouble for Scott. He has managed ongoing refurbishments ensuring they are completed in a timely manner, even offering design suggestions and sourcing colour swatches for new blinds and flooring. Thank you for your efforts, Scott, it's been a pleasure working with you and your feathers are well deserved."
Scott, your attitude and generosity is appreciated, thank you for all you do!
Team Nomination: Samantha Ellis (Payroll Coordinator, People & Culture) & Aruni De Zoysa (People & Culture Officer)
"The P&C team were short-staffed last week due to illness and other commitments. Aruni (whilst recovering from being unwell herself) managed to hold down the fort for payroll and processed the pays with the remote assistance from Sam, who was unwell at home. These ladies work so hard as a team to get the job done and provide a service to all our staff. Thank you, ladies, I appreciate the effort you put in rain, hail, or shine - dream work really does make the teamwork."
Thank you Sam and Aruni for your dedication to the critical role you play!
About Feathers
The SwanCare Feathers Rewards Program celebrates and acknowledges the incredible work completed every day by our staff. Feathers nominations are accepted across seven categories, all based on SwanCare's values of teamwork, customer service and leadership. Any member of our team can be nominated for their outstanding work, acts of kindness, or contributions to projects. Feathers rewards points are accumulated, and staff can redeem prizes from our online prize catalogue.
Nominate someone!
Do you know someone who goes above and beyond, while displaying SwanCare's values? If you would like to acknowledge a colleague's work, submit a Feathers nomination by logging in to Feathers
https://swancare.browniepoints.com.au.