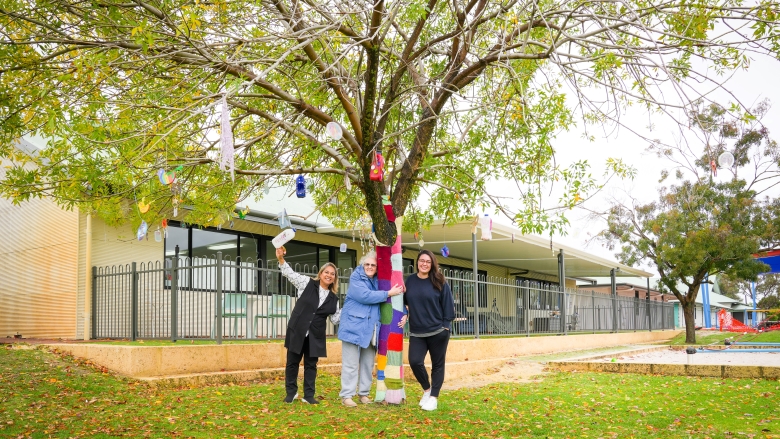 A majestic tree known as the 'calming tree' is much loved by students at Orana Catholic Primary School, all thanks to the talented members of SwanCare's Handicraft Group. 
Imagine if as a child, there was a special place you could go when your worries felt too heavy and when you left that place, your worries stayed behind.

For the children of Orana Catholic Primary School in Willetton, this beautiful dream has become a reality thanks to the kindness of SwanCare's Handicraft Group.

Wendy Paull has always had a love of crafts and knew she wanted to join the Handicraft Group before even moving into the village. She has since been living at Bentley Park for 15 years and has spent majority of her retirement as the group coordinator.

They work on a number of different artistic projects, some individually and others collaboratively, "With us, there is no pressure, people can do what they want. Some of us like patchwork, knitting, the list goes on. We're always looking for new ideas and enjoy learning skills together," Wendy explained.

Aside from having fun creating and socialising, they also enjoy helping others, "We hold two stalls a year and funds go towards the residential aged care centres here at SwanCare," said Wendy, "We also like to get involved with the community outside of the village."

A majestic tree known as the 'calming tree' sits near the OSHC building at Orana Catholic Primary School has been wrapped up in love with knitted squares made by members of the Handicraft Group.

The idea behind the tree is that children can write their worries on a piece of paper anonymously, then hang it on a branch and leave their troubles with the tree.

Supervising Officer for the OSHC program at Orana, Caresse Lenzo, said the students love their calming tree and what it signifies.

"We run before and after school care, so we're here from pretty early in the morning, to quite late in the day. We can have up to 85 kids, so we've done a few projects with the community which helps keep them all engaged," Caresse said, "For example, back in 2020 our students made some beautiful bookmarks and donated them to SwanCare. That was the start of our relationship with the Handicraft Group."

The tree is a popular spot for children to sit, read and meditate. It also lets them enjoy a quiet, safe space after a long day of learning.

Caresse said the children feel strong ownership of the tree and often like to decorate it with bird feeders and wind chimes, "It's a beautiful thing for the children to have; A place where they can literally leave their worries behind."

"The tree was already special to the children, but what we really wanted to do was set it apart from the rest," Caresse explained, "One of our teachers who was at that time a student, Ruby Mavrick, had the idea to 'yarn bomb' it. None of us could knit, so we instantly thought of the gorgeous Handicraft Group who might be able to help us."

Yarn bombing involves crocheting or knitting patterns onto a public structure or form, such as a bench or a tree. It helps reclaim and beautify public spaces, and it's a great way to draw attention to or add meaning to an otherwise ordinary object.

"The project first started during COVID-19, and our intention was to invite some of the residents who were involved in the project down to the school to see the tree and meet the children, but the pandemic unfortunately put an end to that idea," Caresse said.

After some long-awaited years, Wendy finally visited Orana this year to see the creation with her own eyes and meet the friendly faces behind the idea.

"I love interacting with members of the local community and being able to play a part in bringing their vision to life," Wendy explains, "I think we all get a lot out of it."

Like the Handicraft Group, many children at Orana enjoy being creative and learning new craft skills, "We know that lots of our children would like to learn to knit and crochet. It would be wonderful to have a craft class with some cross generational learning from the residents at SwanCare."

Caresse appreciates the relationship the primary school has with SwanCare and says she hopes this is the first of many collaborative craft projects, "We really appreciate the ladies giving up their time to create these knitted squares with so much love. We cherish our friendship with SwanCare and would love for our children to continue making connections with more residents, I'm sure it would be wonderful for both parties."

Thank you to the Handicraft Group and Orana Catholic Primary School for allowing us to share this beautiful story of creativity, community and connection.