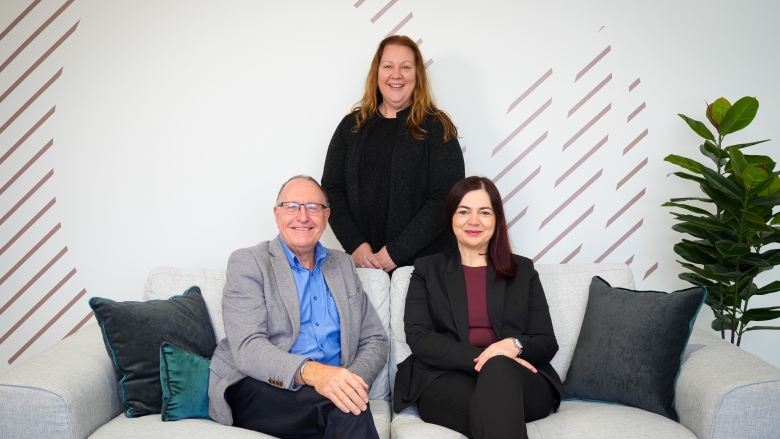 Hear directly from our management team on what it takes to deliver quality care to our 1,100+ residents every single day.
The care and compassion that SwanCare's residents receive takes a truly dedicated team. From our highly qualified RNs, ENs and Allied Health professionals right through to our Home Care assistants, Maintenance, Hospitality and Administration teams, everyone plays an important part in enriching the lives of our residents.

Tidings spoke to a few members of the management team to get an inside view of what it takes to deliver quality care for over 1,100 residents every day.

Graham Francis - Chief Executive Officer

"I'm so proud of the care we provide at SwanCare and the dedicated staff who provide it. It's not only tremendous, but it also ticks all the boxes in terms of quality and compliance. I believe what truly sets us apart is our staff have a genuine desire to make a difference. They show so much compassion and treat the residents like an extension of their own family.

"We have a diverse employee mix at SwanCare, and a lot of people from overseas who are part of our team may not have their own families nearby, and because of this, many of our staff treat our residents as extensions of their own family. We have a simple culture of caring, but our main value is respect, both for the residents we look after and each other. When we're hiring, we look for staff who have those qualities inbuilt.

"I've always thought that care is just a word... but it's what it represents that is important. I can illustrate that with a story about one our staff members who was driving home after finishing her evening shift for the day, it was around 10pm at night when she noticed an elderly lady out walking who looked confused and maybe lost. Instead of simply driving past, she stopped to discover it was a new resident who was disoriented. The staff member consoled the lady, and after a short time was able to find out where she lived in the village and proceeded to take her home, and ensure she was safe and no longer confused. In the simplest of terms, this staff member averted a risky situation and potentially saved a life because of the actions she undertook and her caring and compassionate nature."

"It has been a tough time for the sector throughout the pandemic, but our staff remain committed to giving excellent care. They have a lot of pride in their work and give so much. From our carers to catering, maintenance, laundry, administration and across the board, we have a wonderful team.

"I've been part of this business for 18 years and it was evident from day one that what I love about SwanCare is that the focus is not on money, it's genuinely about caring for people and making them feel safe and secure. This is a dynamic organisation, its constantly changing and evolving, and I'm proud to be a part of it."

Duska Bodegrajac - Clinical Operations Manager

"At SwanCare, resources are directly invested into the care of the residents and staff development. There are robust systems, processes and policies in place that inform the best care for our residents to ensure they are supported to live the best possible life.

"As an organisation we have long term staff and turnover is low, which says a lot. They all really want to work here. SwanCare provides the opportunity for a great work life balance which everyone is encouraged and supported to utilise.

"I want to thank every single team member from the bottom of my heart for the care they give every day. Staff go above and beyond here and really do help residents transition seamlessly into care. My staff are passionate, they're skilled and they follow our clinical systems, policies, processes, and procedures by the book.

"The industry has gone through a lot of change lately and embracing it and having a can-do attitude is what I appreciate about them most. We have supportive management, and the staff are engaged, compassionate and in it for the long term.

Natalie Hodi - General Manager Community Living

"I see so many examples of our staff going above and beyond on a regular basis. Recently a carer realised that a client she was caring for had no dinner in the fridge, so after her shift, she went shopping to make sure he was stocked up with the essentials.

"When someone moves into the village, they have two staff members that work alongside them as resident support to get them settled and answer any questions they or their family may have.

"We care for people in the independent living village and for clients offsite as well. Our staff are so engaged that they can quickly identify if needs change or if someone is struggling and requires additional support. Covering independent living, home care and working closely with residential care, my team is fully across the different levels of care and can provide relevant information to our residents which makes continuum of care seamless.

"I like to think we provide an extra level of care, comfort and support for both residents and their families. I believe my staff are doing this job because they love it. Care isn't just in their job title, it's what they deliver through every interaction, every day."

Thank you to the over 600 SwanCare employees for making a difference in the lives of our residents, and each other. It is evident that this is much more than just a job, it's a passion, and we appreciate you!