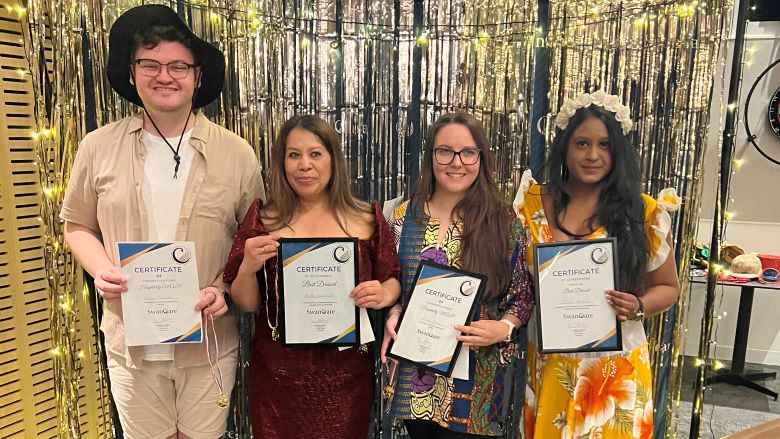 Our Hospitality team came together to celebrate Christmas in March!
After many months of COVID-19 outbreaks and lockdowns across our four residential aged care centres, our Hospitality team finally had the chance to come together for a belated Christmas celebration. To hear how the team celebrated, we spoke to two of our fantastic Hospitality team members who helped make the magic happen.

"Despite being a few months behind, we wanted to give our teams the opportunity to celebrate together, and spend a night relaxing, reconnecting and seeing each other's smiles without a mask!" Said Daniel Smith.

Daniel is our Corporate Hospitality Operations Manager, who oversees operations of all the dining rooms, cafes and kitchens across SwanCare Bentley Park. With so many hospitality venues, he said it's often difficult for staff to connect, making nights like this that much more important.

"Hospitality operations are spread over multiple aged care centres. As a result, many of our staff do not cross-over with one another during regular working hours. These catch-ups outside of work are sometimes the only opportunity we have to connect with each other and are crucial in our efforts to build unity within the team."

Daniel truly went above and beyond to make this an unforgettable night for the team - even creating a makeshift photo booth!

"We had a theme of 'Many Cultures, One Team', and asked attendees to come dressed in their fanciest traditional and cultural attire. We had a Best Dressed and Runner-up award, as well as a vote for the Hospitality MVP. We also wanted to set up a photo booth but were working with a limited budget, so I raided my kids' toy room and Halloween costume collection for props. With a few team members bringing in cameras, we were able to take loads of pictures, with staff donning a selection of wigs, hats, and funny attire."

Lester Javier, our Commercial Hospitality Supervisor, reflected on why it was so important for the team to come together.

"Taking the time to celebrate as one whole team will always be important, regardless of the challenges faced on a daily basis. But it was particularly needed after the COVID-19 lockdowns last year, and it was great to take a step back from work, relax and connect with other members of the Hospitality team."

Lester shared some of his standout moments from the party and why he believes the Hospitality team is so deserving of such a wonderful night.

"The highlights were definitely enjoying the delicious catering provided by our very own Commercial Chef, as well as seeing staff wearing their wonderful cultural outfits. Everyone has been so resilient through the challenging times we've had. They've dealt with major changes in café operation hours, menu enhancement and the constant COVID restrictions, but they've still been understanding, proactive and genuine in serving the community," Lester said proudly. "The smiles they bring to residents, staff and visitors on a daily basis is truly what sets them apart, so it was nice to bring some smiles to them for the night."

Daniel also wanted to share his appreciation for his team's hard work and the extraordinary impact they have on our residents.

"I'm so proud of our whole team (and with about 115 staff working in Hospitality Services, the list is long!). I appreciate the dedication and resilience they show, even in the face of extraordinary challenges. The difference they make is often immeasurable, as it is hard to quantify the impact a smile, delicious meal or friendly conversation can have on a resident."

If you'd like to be a part of this hard-working, generous and fun team, Daniel and Lester have the following advice.

"If you love talking to people, giving smiles every day and enjoy a roller-coaster, unpredictable day at work, then welcome to Hospitality!" Lester laughed.

"Apply online!" Daniel said. "We're always looking for hospitality staff who are passionate about customer service and keen to learn new skills."

If you're interested in being part of our incredible Hospitality team, you can express your interest here: https://swancare.elmotalent.com.au/careers/scgjobs/job/view/86

Special thanks to Daniel Smith, Lester Javier, Kirsty Allen, Drishti Goojha, Keenan Redwood, Kiera Annesley and Chef Dhurba Rijal for putting on a wonderful event.