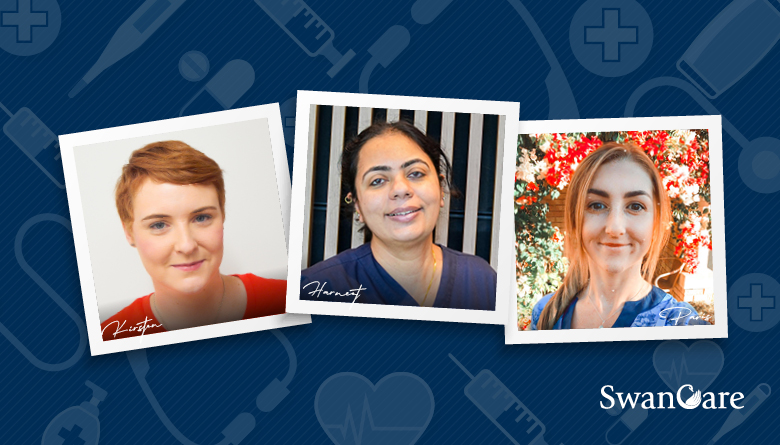 We pride ourselves on supporting career growth and professional development at SwanCare so that our people can be the best they can be.
We spoke to three of our amazing staff to hear how their careers have soared since joining the team.
Kirsten MacDonald
Kirsten first joined SwanCare in 2019 after a relative moved into one of our retirement communities. Starting as a volunteer, she was immediately struck by how welcoming and friendly she found SwanCare, and began studying so she'd have the qualifications she needed to join our team. Since joining us permanently, she's found fantastic opportunities to grow and progress her career.
"Starting at SwanCare in one position doesn't mean that's as far as you'll go! I started as an Assistant in Nursing, which allowed me to get to know the residents deeply. Helping provide care or accompanying residents to activities gave me a stepping stone towards a role in Activities. I'm now Activities Assistant, and I'm studying a Certificate IV in Health and Leisure so I can do more with my role in the future."
Kirsten encourages anyone interested in joining SwanCare to start their journey as a volunteer:
"Becoming a volunteer allows you to get an understanding of what it's like to work at SwanCare, and how to communicate and interact well with our residents. Everyone has a story to tell or knowledge to pass on, and I feel like the residents have become my adopted grandparents! It makes my day when I get to sit down and talk with them."
Harneet Kaur
Harneet started her career with SwanCare in 2008 and has gained experience working in many diverse roles across the organisation, including Physiotherapy Assistant, Training Officer, and most recently, Registered Nurse (RN). Harneet was able to work part-time while completing her Master of Nursing, and after she finished her studies, she enrolled in SwanCare's graduate program, which she completed in February 2022.
"The graduate program was a good and challenging start for my career as an RN. Rotating around different buildings and constantly being on my feet learning really increased my understanding of aged care and helped me adapt to sudden changes. Our senior staff were also helpful and cooperative, encouraging us to ask for help and providing the right guidance to ensure our paperwork, reports and assignments were completed. It was super rewarding, and to get a post-graduate certificate in nursing at the end is an amazing qualification to have moving forward in my career."
Over the many years she has been with SwanCare, Harneet has experienced countless career highlights.
"Working as a Training Officer, I loved helping new staff learn manual handling and occupational health and safety procedures. I also feel the graduate program really enriched my nursing experience, as I got to know so many residents and staff across all areas of SwanCare."
Although her role and responsibilities have changed over the years, what hasn't changed is the constant support and career growth Harneet has found at SwanCare.
"It's been great to see the organisation grow since I joined and see new staff come on board and help with our growth. I feel that senior management has always encouraged our staff to grow and will offer them opportunities to progress within the organisation."
Paris Brooks-Pope
After joining SwanCare in 2014 as a Carer, Paris felt a calling to change her career pathway, pursuing studies as a Registered Nurse through the University of Notre Dame. Like Harneet, Paris also undertook our post-graduate nursing course, and cherished the opportunity to grow her career in a friendly and supportive environment.
"Swancare has been an amazing support system to achieve my career goals. I have always received support and encouragement from staff and management, but also from residents who watched my journey of becoming a nurse. One of the residents thoughtfully knitted me a doll dressed in a nurse's uniform holding a champagne bottle with my name on it, and surprised me with this after I had graduated, which was really special."
Paris was also given the opportunity to complete a course with the Australian Institute of Professional Counsellors (AIPC) and attain certification as an Infection Control Lead.
"As the Infection Control Lead at work, I created an interactive poster about hand hygiene education for the staff. SwanCare ended up turning it into an official poster and placed copies of it on the walls around the facility!"
For those wanting to grow their nursing career, Paris gives the following simple advice.
"Do a post-grad with SwanCare! You'll solidify your knowledge of the foundations of nursing while getting clinical care experience."
With a broad range of roles on offer, there's a career path for you at SwanCare. See our current vacancies here:
https://swancare.com.au/work-with-us/view-current-vacancies
.