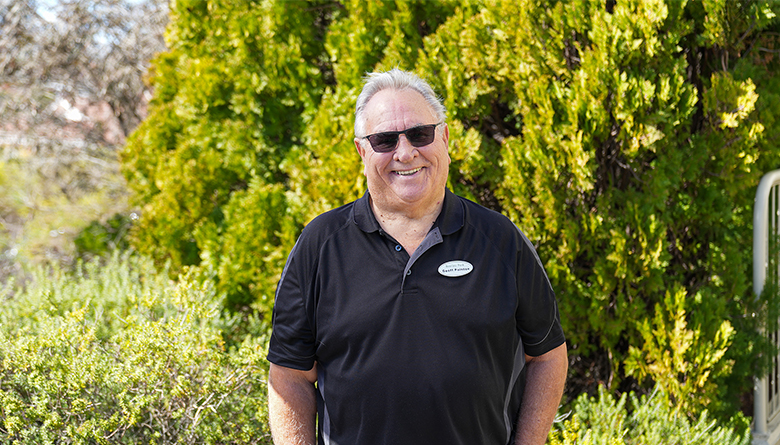 Retired bus driver, Geoff Pointon, has lived at SwanCare's Bentley Park retirement village for just over a year and believes the secret to staying young at heart is keeping active.
"I keep pretty active here and I think that really is the secret to ageing well," Geoff said.

"I do personal fitness training sessions three times a week, I play bowls, and I'm also part of SwanCare's 'All Sorts' choir.

"I also love to head down to the shops every day, get a coffee, and read the newspaper."

Geoff decided to move to SwanCare after his wife passed away three years ago, and his children were concerned that he wasn't being as social as he once had.

"I'd been living on my own, I was retired, and I guess without my wife Irene, I had become a bit isolated," Geoff said.

"I looked at SwanCare first because it was really important to me that wherever I moved I still had my own independence; here I have my own garden, I can have a barbecue, have my family over, or be social in the community if I want to."

Geoff was in-between jobs when he first became a bus driver for MTT in Perth, he absolutely loved it and never looked back.

"I love the public, I'm a real people person, I enjoy helping people, and it turned out that I loved it so much I became a Training, Development, and Recruitment officer in the end," he said.

"There was always great comradery in the industry too. Still to this day I keep in touch with some of the drivers I recruited from the Philippines, who I went on to train and help get a NZ citizenship over 16 years ago. Once a year I go over to Christchurch to catch up with them."

Now retired, Geoff still can't get enough of transporting people and has volunteered some of his time here at SwanCare.

"Even though I'm retired, I do volunteer bus and buggy driving around the village, and I've also helped SwanCare create an assessment module for volunteer drivers here, so there's that accountability to keep the residents are safe. I was really happy to assist withthat."

When you speak to Geoff about his career achievements, it was evident that he loved his job as he was presented a top award.

"When I was at Transperth in the 80s I won the driver of the year award and that was pretty special, I was very proud of that."

Geoff originally hails from New Zealand, ending up in Australia in 1968 in pursuit of more opportunities. He acquired his training licence in NSW and has trained drivers from NSW, WA, the Philippines, and New Zealand as part of his work.

"It's definitely a vocation, not a job," said Geoff. "I love seeing people's joy when they're going somewhere, and they have safe qualified drivers looking after them. I get a lot of enjoyment out of seeing people happy, that's why I loved the job so much."

Geoff and has wife Irene had a daughter and a son and he said while his family is very important to him, he's also made a lot of good friends at the Village.

"I go to church every Sunday and that's really important to me, and currently at choir we're practicing for the Christmas concert, so there's always plenty to do around here," he said.

"To be honest that's one of the things I really enjoy about living at the Village."

Thank you for sharing your story with us Geoff. We look forward to seeing you out and about the village!