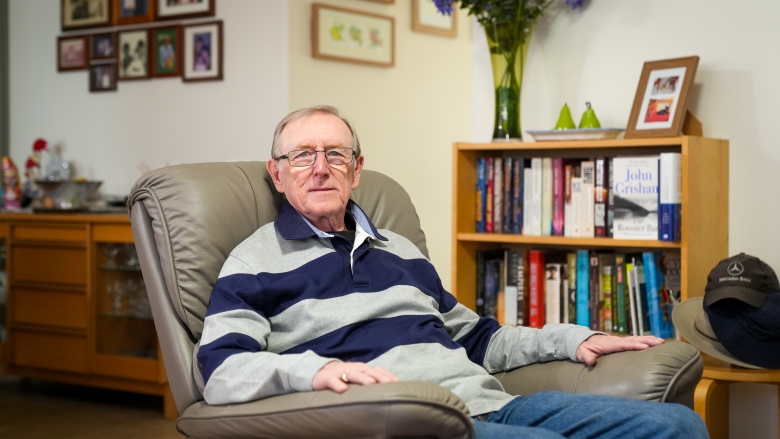 Upon joining the Royal Navy at just 15, retirement living resident Barry Morgan was thrown into a whole new world, and now at 72 he reflects on the incredible yet challenging experiences that made his life at sea so adventurous.
72-year-old retirement living resident, Barry Morgan, and his wife Maxine, have lived in the Bentley Park village for the past four years. While he is very much enjoying his retirement, Barry's past life was one of adventure, experiencing life on the high seas as a submariner in the Royal Navy.

"I joined the Royal Navy in 1966 when I was just a boy, I was 15, and when I think about that now, I really was just a kid. I definitely went into the training as a boy and came out as a young man," he said.

He grew up in Southeast London and while he said he didn't have much navy history in his family, his uncle was part of the navy when he was born.

"Apparently my mum took me to meet him when he was docked in London, so I'd been on a warship before I was even one year old," he said.

Barry recognises there were a lot of life lessons learnt from his time at sea, "The discipline is something you keep for life. You learn a lot about yourself through the process of training and you meet a lot of great people. One of our mottos was 'If you want to do something, do it the best way you can' and I still live my life that way even to this day."

When Barry was on his first surface ship, they were doing trials, "Part of the trial was to see if some of us wanted to spend a night in a sub for 12 to 15 hours," Barry explains, "I was young at the time, and it all seemed like a big adventure. My first posting was on a surface ship in Singapore and then I ended up on the subs. I loved it."

Barry recalls his time during the Cold War, which found him in some dangerous situations, "Once we were going up and down the Russian Northern fleet and we had to be very skilled at taking stealth pictures of their propellers, it all could have gone terribly wrong if the sub had resurfaced in rough weather."

"I also fell off the sub into a floating dock up in Scotland, and I was incredibly lucky that the water broke my fall as I could have been killed. The last sub I was on in the navy was nuclear, so that was quite exciting too," he shared.

Being part of the navy meant Barry did a lot of travelling, and says it was a great chance for him to see the world, "We went to a lot of different places. I spent some time in Singapore and in the Pacific Islands, I also went to California. It was the early 70s and the music scene at that time was like nothing else, it really opened my eyes."

Sydney really piqued his interest though, so in 1977, Barry decided to leave the Royal Navy and join the Royal Australian Navy as they were short on Naval Policeman at the time. It was also there where he met his wife, Maxine.

"One of the boys on the boat had met a girl in Sydney, she had a cousin that she was pestering me to call, I said I would, but I couldn't promise anything... and the rest as they say, is history."

Barry loved his life on the sea but left the navy in 2003 and remained a reserve until he retired in 2005.

As far as SwanCare goes, Barry said he is loving this stage of his life and enjoys being part of the community, "It's the best move we ever made," Barry said. Barry and Maxine decided to downsize when his mother-in-law was on her own and Maxine and her siblings started looking for somewhere she could live, "We realised at that time that it was a lot of work finding the right place and we didn't want the onus to be on our kids when the time came for us to move."

Barry said one of his favourite things about SwanCare is the flexible lifestyle, "The good thing is, there's so much to do here, and if you want to do it you can, but you also don't have to. It's always there when you feel like being part of it."

"We love using all the amenities. I'm part of the Photography Club, I play snooker, I also enjoy driving the SwanMobile on Monday mornings where I can meet interesting people and hear their stories," he said, "I'd honestly recommend SwanCare to everybody. It's a wonderful place to live."

Thank you, Barry, for sharing your story with us. We appreciate your service and love having you part of our SwanCare community.