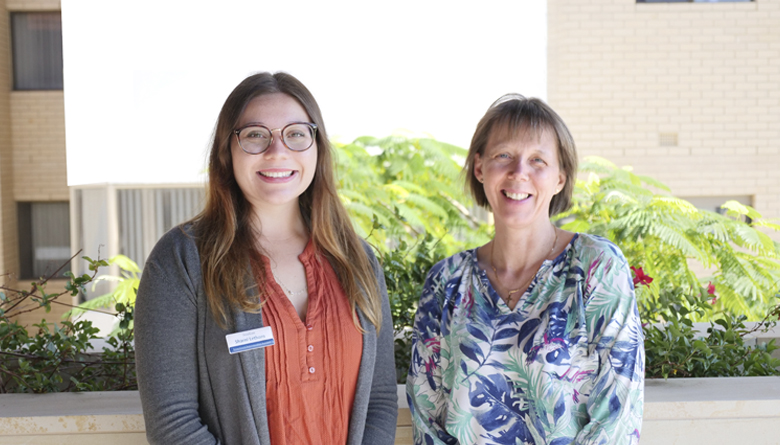 We're currently looking for an Administration Assistant to join our team. We spoke to Sharni to get an insider's perspective on the role!
At SwanCare, we're honoured to support our people in whatever path their career takes them. Sharni Lethorn joined us in Reception for the opening of SwanCare Ningana in May 2020, but when an opportunity opened up in SwanCare at Home as an Administration Assistant (Community Living), she decided to go for it!
Since we're currently looking for an Administration Assistant to join our team, we spoke to Sharni to get an insider's perspective on the role.
"A job at SwanCare, in any role, can be as dynamic as you make it. There are opportunities to go on outings, take part in fun activities and expand across different departments. When you're open about what you're interested in, the opportunities will start popping up!"
In her time as Administration Assistant, Sharni has gone above and beyond to provide exceptional customer service to our residents, clients and visitors. She's been dedicated to supporting the Community Living Services team with reception duties and roster coordination. And because every day brings something different, Sharni has learned to be flexible with last-minute roster changes or unexpected requests.
"Each day usually starts with a team meeting, and then I check the rosters and messages from staff to ensure the day and week will run as smoothly as possible. But from there, it's anyone's guess! I often take calls from clients making special requests or staff providing feedback on a service. We sometimes have residents pop into the office to say hello and for a quick chat. A big part of my role is being able to stay flexible and help my teammates whenever I'm needed, and this can look different from one day to the next."
A role where every day is different can be exciting, but it's not without its challenges. Sometimes, it's just not possible to fulfil everyone's requests, so Sharni has learned that clear communication is essential.
"Naturally, you want to make everyone happy all the time, but sometimes that's not possible. So, managing expectations and clearly communicating what we can and can't help with is super important. When I'm faced with those tricky situations, being able to turn my focus towards finding a solution and supporting my team is a great feeling. It makes me feel really satisfied when we can get a good outcome, and receiving positive feedback from our clients feels even better. Knowing they have a great relationship with our staff is so rewarding."
While Sharni doesn't visit the clients in their homes every day, knowing she gets to send the right people to help them feels deeply gratifying. She sees the care and kindness the SwanCare at Home team brings to their work, and she feels honoured to be a part of that.
"Being a part of a smaller team means I know each of my teammates on a personal level. We have a great balance of professionalism and camaraderie. This makes it easier to get curious, ask questions and reach out for help when needed. It's also unique to SwanCare at Home as a provider that I have gotten to know most of our clients personally! It's not uncommon for me to drop by at their home to deliver something or to see them out and about in the village and stop for a chat. It's just something most people in my role wouldn't be able to do within another company."
Sharni knew right from the beginning that SwanCare was the place for her, because of how warmly she was welcomed into our community. She sees this as the one thing that makes us stand apart from the rest.
"SwanCare is very community oriented, and people are treated the same, regardless of job title, age or gender. There is always so much going on in the village and care facilities. Some days, I get to watch residents play bowls or go on bike rides past my office. Other days, residents will drop some treats off for the staff to enjoy. We even get invited to join in activities like line-dancing and darts! It's just such a welcoming environment, and the relationships you build with the staff and residents are so special."
SwanCare is renowned for nurturing these one-of-a-kind relationships, and each new person who joins us is instantly welcomed into our community. If you're looking for an exciting new role in a workplace that feels like home, Sharni has some advice to offer:
"You have to be flexible and able to work both autonomously and as part of a team. This is a role where you sometimes need to think outside of the box, so get comfortable with thinking on your toes and problem solving!"
An Administration Assistant (Community Living) role at SwanCare is waiting for you! To apply or read more about this fantastic opportunity, visit this link:
SwanCare - Administration Assistant - Community Living
.