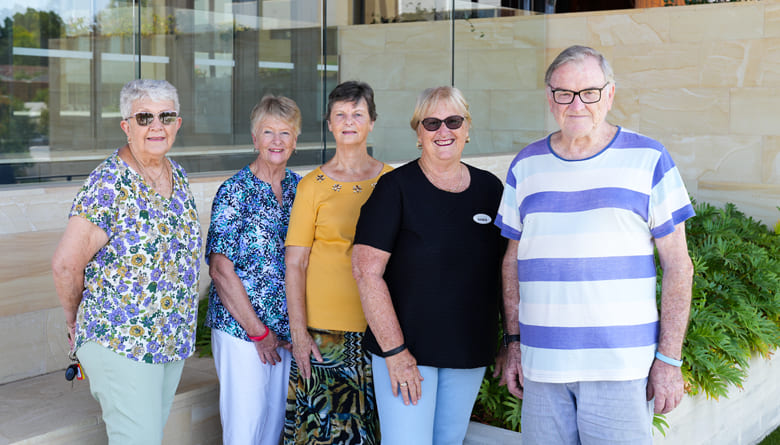 Retirement living resident Sandie Holmes shares her role in supporting the village through SwanCare Centres Auxiliary.
When Sandie Holmes first moved in to SwanCare nine years ago, she was working full time, so she did not have the time to take part in many of the clubs or groups that were part of her new home.

But as she started to settle into the village and work a bit less, she decided that it made sense to get involved in a few clubs and get to know more residents.

That led to her getting to know Phyllis Leavy, the then president of the SwanCare Centres Auxiliary group. Phyllis was looking to take a break from her role and asked Sandie if she would like to come onboard.

"I did think about it very carefully because I've never held a position on any kind of committee before, but I said yes, and I'm so glad I did. It was important for me to get to know more people and make new friends in the village," Sandie shared, "The group is great and I've learnt a lot while meeting some fabulous people."

The role of the Auxiliary is to raise money for SwanCare's residential aged care centres. Sandie says she is happy that they have raised good money while she has been part of the club. "We donated $200 each to the care centres last December for their Christmas parties and I was proud of that, because it meant that the residents got to have a bit of fun and enjoy a lovely Christmas party."

Each care centre has a wish list which the Auxiliary group work towards achieving, "We raise money for things on their wish list. For example, we've just raised enough money for ten senior's jigsaw puzzles that help people with dementia. It will be great for the residents in the care centres and I'm really proud of that."

"We've also been able to donate towards Cycling Without Age tricycles that are around the village each week, to keep them going for resident's enjoyment."

Sandie says she hopes the work they do enriches the residential aged care residents experience and helps them feel more connected and included among the Bentley Park village.

"We have a lot of fun in the Auxiliary Club and I think that's important as you get older, I'm in my 70s now and I think we all need a bit of fun, don't we?" Sandie said, "We take two bus trips a year, we have a luncheon, meetings, and a fashion parade. It's always been good fun."

This year the Auxiliary are focussing on activities such as a river cruise to Mandurah, a trip to the Perth Zoo, various speakers at Auxiliary meetings and their annual raffle to raise money.

Sandie still works 10 hours a week as a cashier at a supermarket, and really enjoys her retirement job. She also likes to visit her son in Brisbane and plans to do more of it next year, as such, she will not be continuing on as president of the Auxiliary in 2024.

"I've enjoyed being president and I'm so glad I've gotten to know all the wonderful people who are part of the Auxiliary; Phyllis, Lesley, Caroline, Dorothy, Judy, Pat, Eric, and June who does the morning teas. I also want to give thanks to our bus drivers, Jim and Ken, I appreciate all they do for the club as well as the SwanCare Admin team," Sandie said.

When it comes to joining clubs and groups, Sandie says everyone should give it a go. "There are so many options at SwanCare and I think it's great, because we should enjoy them, get to know people and have a bit of fun in our retirement. You really will get a lot of enjoyment and I recommend getting involved where you can to everyone who lives here. I've even started my own Board Game Group."

Sandie says living at the Bentley Park village is the best move she has ever made, "I absolutely love it here. I was living on my own prior to moving here and you do get lonely. Here, I feel safe. I have people of the same age group and can be part of the clubs and groups if I want to, or not. I also love to swim, so I'm at the Leisure Precinct a lot."

Above all, Sandie says it's the kindness of the SwanCare community that is the best part about being a resident here, "All the residents have big generous hearts. There's a lovely bunch of people here and I'm so glad that I get to call it home."

We are so thrilled you can call SwanCare your home as well, Sandie. Thank you to all Auxiliary members for your amazing work and contribution to our community and care centres.