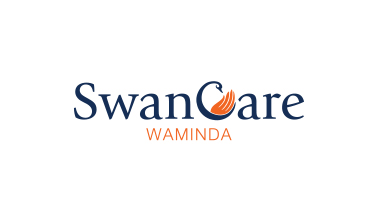 An update on the viral infections outbreak at SwanCare Waminda.
22nd August 2023
Viral Infections Update: SwanCare Waminda
Further to our notification of viral infections at SwanCare Waminda on Friday, I need to advise that despite our best efforts to contain the known infections, there has been further spread across Level 1 and Level 2. As such we are declaring a respiratory viral outbreak at Waminda.
Since our last update, a total of two residents on Level 2 have returned positive results for Respiratory Syncytial Virus (RSV) as well as Rhinovirus, and another resident has tested positive for Rhinovirus. On Level 1, only the one previously advised resident is confirmed positive for COVID-19. Two additional residents on Level 2 and one resident on Level 1 are currently displaying Acute Respiratory Infection symptoms and we are awaiting results on their COVID-19 test.
All residents are being closely monitored, tested as required, are being well taken care of with families notified directly of any positive results. We continue to follow increased infection control protocols including restricting movement across Level 2. Affected residents are being provided 1:1 physiotherapy and social engagement activities, meal tray service to their rooms, and with hairdressing temporarily ceased until further notice.
As a result, SwanCare Waminda Level 2 will close to visitors until further notice. Visitation exemptions will be made for essential visits, end of life and partners in care. Telephonic and video communications with your loved ones can be arranged by contacting SwanCare Waminda during reception hours to schedule a time.
Ground Floor, Level 1, Level 3 and Level 4 will remain open, however, visitors are asked to limit visits where possible and are required to respect increased infection control protocols.
Mask wearing is required for all visitors and staff entering SwanCare Waminda and Rapid Antigen Testing prior to entry is strongly encouraged. These resources are available at reception. In addition, all visitors must adhere to the current health and safety measures as detailed below:
Current influenza and COVID-19 vaccinations prior to entry is encouraged
Complete health screening and sign in using visitor kiosk upon arrival
Respect all infection prevention and control (IPC) measures in place
Refrain from visiting if unwell or if you are a close contact of a COVID-19 case
If COVID-19 positive, refrain from visiting for at least 7 days and until symptom free
Visitors are limited to two people at a time, from 9am – 12pm and 2pm – 5pm daily
We will continue to provide updates where appropriate.
All up-to-date communications can be found at
http://www.swancare.com.au/covid-19-updates