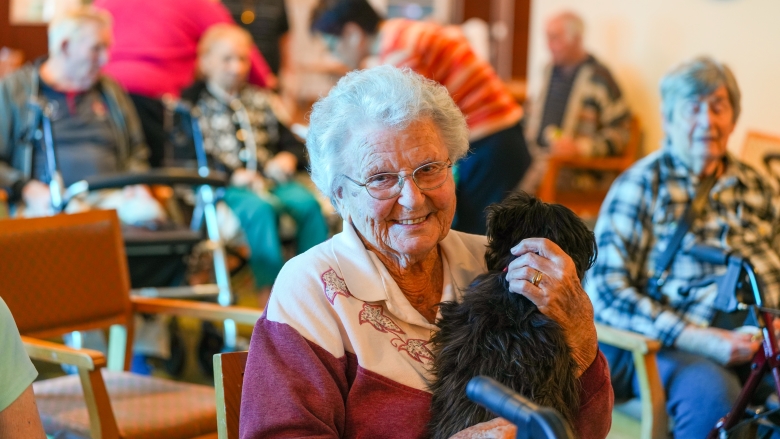 At SwanCare, we value the human-animal bond and hope to maintain that connection through our Pet Therapy Program.
A recent study by the Companion Animal Network Australia (CANA) found limited progress is being made in aged care centres to maintain the human-animal bond, a bond that we believe holds significant value in enriching our residents' lives.
Whilst we understand owning a pet isn't always possible in residential aged care, we understand the importance of enabling our residents to maintain their animal connections.
These relationships prove to have countless benefits for the physical and mental health of seniors, most notably reducing feelings of loneliness and increasing happiness, all while helping to keep our residents fit and active. This is why our Pet Therapy Program is a regular on our Social Engagement Calendar.
Pictured below is Ash who has been visiting along with his older sister Cindy, since he was only a couple months old. Ash celebrated his 1st birthday at SwanCare Kingia last week where the residents and staff sang him happy birthday and shared in a delicious birthday cake. This was the paw-fect party to show Ash our appreciation for the joy he brings to our SwanCare community. Happy birthday, Ash!
To view all the photos from Ash's birthday party, visit our Facebook page here:
Pet Therapy Program