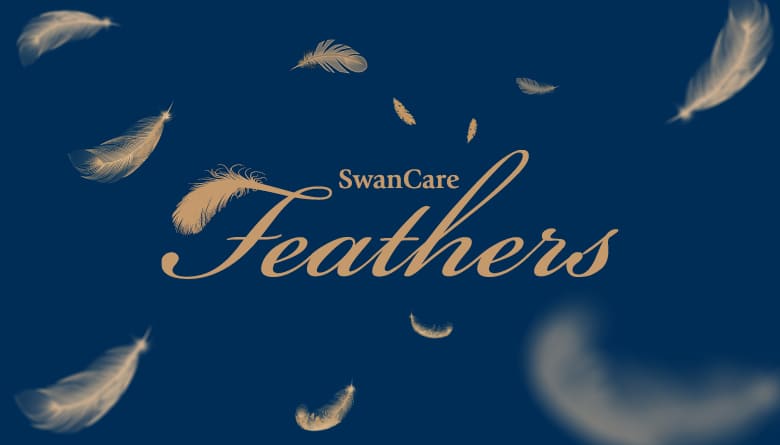 We are constantly in awe of the dedication we see from our SwanCare team to provide high - quality resident care and improve lives for a living.
We are constantly in awe of the dedication we see from our SwanCare team to provide high - quality resident care and improve lives for a living. We're honoured to share their achievements each month through our Feathers nominations. We encourage everyone in our team to keep lifting each other up and sharing every win, no matter how small it may seem - even the smallest action can have the biggest impact!

Our overall winner for May is Raseilles (Iva) Gayagoy, our Clinical Team Leader at SwanCare Tandara/Kingia. Iva has shown outstanding leadership this month in stepping up to the Clinical Nurse Manager role at SwanCare Ningana while another team member was on leave and the facility was experiencing a COVID-19 outbreak.

"Despite being relocated to SwanCare Ningana, Iva has made the extra effort to come early to work and stay back late to ensure her responsibilities as Clinical Team Leader at SwanCare Tandara/Kingia are not compromised. Her leadership abilities and dedication to her role are beyond comparison. By stepping in to work on the floor and cover shifts during the outbreak, Iva has gone above and beyond, and has set an example for all team members to aspire towards."
As we acknowledge our winners for this month, we would like to remind our SwanCare community to keep celebrating each other. We know countless examples of safety awareness, recognising others, and learning and development happen every day, and we'd love to hear about them! Read through to the end to see how you can nominate your fellow team members for next month's Feathers awards.

We would like to extend a huge congratulations to all of our May Feathers winners!
Category Winners

Compassion: Gary Zhang (Registered Nurse - SwanCare Kingia/Tandara)

We are so lucky to have such kind and compassionate nurses like Gary. Thank you for all you do!

"Gary deserves recognition for always showing compassion to our residents and our team. Ever since Gary started working as an RN, he has never missed the opportunity to assist a resident with any issues they experience, and actions any requests as soon as they are reported to him. He also ensures that all staff duties are completed before a shift ends, and keeps everyone in good spirits throughout the day. Thank you, Gary!"

Customer Service: Leanne LeBrun (Manager - Residential Care Admissions - Administration)

Leanne showed patience and excellent customer service this month by turning a challenging situation around for a SwanCare resident and her daughter. Congratulations on a well - deserved nomination, Leanne!

"I would like to say a huge thank you to Leanne for personally making us feel welcome and comfortable at SwanCare Tandara. I directly attribute my mum's decision to stay at SwanCare to her and all the SwanCare team. Everyone who helped us has been proactive and worked out quick solutions to accommodate my mother's arrival. I truly commend the kind and caring way you have looked after my mum."

Teamwork: Karen Parker (Executive Assistant - Administration)

We cannot thank Karen enough for providing such fantastic support during this difficult time. Our SwanCare team is truly one of a kind.

"Karen worked closely with our home care and clinical management teams throughout the recent COVID-19 outbreaks. She provided support by sharing resources and communication, laminating posters for COVID-19 affected areas, and assisting our reception team with filing, problem solving, and even taking phone calls while they were busy managing COVID-19. She has also been a beacon of moral support and positivity that continues to brighten everyone's days. Her commitment is outstanding, and truly makes our team work best. Karen, you are an excellent team player - thank you for going above and beyond every day so our team can achieve our goals!"

Team Nomination: Vicky McCabe (Enrolled Nurse), Julie Stevenson (Enrolled Nurse), Casey Sharp (Enrolled Nurse), Joan Jerono (Enrolled Nurse), and Harneet Kaur (Registered Nurse) - SwanCare Ningana

Teamwork makes the dream work! Thank you to this amazing team of nurses for all your efforts.

"Big thanks to Vicky, Casey, Julie, Joan, and Harneet who have been operating so well as a team lately. Their teamwork has kept everything flowing smoothly in resident care, despite the many challenges thrown their way. We are so happy to have you all as part of our SwanCare Ningana team!"
About Feathers:
The SwanCare Feathers Rewards Program celebrates and acknowledges the incredible work completed every day by our staff. Feathers nominations are accepted across seven categories, all based on SwanCare's values of teamwork, customer service and leadership. Any member of our team can be nominated for their outstanding work, acts of kindness, or contributions to projects. Feathers rewards points are accumulated, and staff can redeem prizes from our online prize catalogue.

Nominate someone!
Do you know someone who goes above and beyond, while displaying SwanCare's values? If you would like to acknowledge a colleague's work, submit a Feathers nomination by logging in to Feathers https://swancare.browniepoints.com.au.