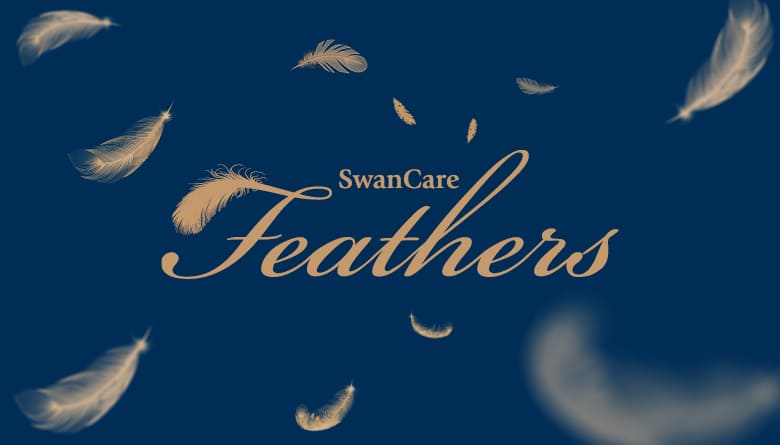 As we look back on the first half of 2022, the seemingly small actions and choices our team members make inspire us for the next half of the year.
We love hearing these stories of everyday goodness, they fill us with positivity and pride. We can't wait to see what stories the rest of 2022 brings for us at SwanCare.
Our overall Feathers winner for June is Alia Arias, who was nominated for her terrific teamwork. Alia shows constant commitment to providing exceptional service, and we could not be more proud to have her as part of our team.
"Alia never hesitates to lend a helping hand, and regularly helps cover the reception desk while I'm on my lunch break. She is understanding, friendly and helpful to residents and visitors alike. She's hard working, supportive and a great colleague and friend. Thank you, Alia - your continued efforts deserve to be rewarded!"
At SwanCare, our team is dedicated to enriching lives for a living, and this is particularly evident in how our people celebrate each other in our monthly Feathers nominations. Recognising stories of hard work, everyday achievements or simply lifting each other up is what makes our SwanCare community so special, and we are deeply grateful to each and every person who has chosen to become a part of it.
Please join us in congratulating our June Feathers nominees!
Category Winners
Compassion: Safirah Ismail (Social Engagement Assistant - SwanCare Ningana)
Thank you, Safirah, for your genuine care and kindness towards our residents. It clearly does not go unnoticed!
"I recently got to see how caring and involved Safirah was at a concert we attended with our residents. It was lovely to see her interactions with the residents and how much care she showed towards everyone."
Customer Service: Mat Allam (Manager Operations - ICT - SwanCare Administration)
We appreciate the time and effort Mat took to streamline the IT team's phone system, and we admire his dedication to ensuring no call goes unanswered. Thanks for making this important change, Mat!
"Since the IT team are often called away from their desk, they miss a lot of phone calls made to them. Since Mat took over, he has set up a system to make sure if the call isn't answered, it gets diverted to other IT team members. If no one is able to answer, Mat receives a notification and makes sure the call is always returned. This innovative change shows Mat's commitment to customer service and his great leadership. Thank you, Mat, and keep up the good work!"
Improvements, Innovation and Creativity: Sushila Sapkota (RN), Leidy Ortiz (SEA), Chung-Yup Cho (AIN), Hardeep Singh (AIN), Cerelyn Smith (AIN), Korina Ponce (AIN), Harpreet Kaur (TK) (AIN), Galih Wanujiati (AIN), Mari Luis Baquiran (PTA), and Jeffrey De-Asis (PTA) - SwanCare Tandara
We love the creativity and innovation this team summoned for Pyjama Day, and it's heartwarming to hear how everyone got involved to create a one-of-a-kind event for our residents. Congratulations on such a well-deserved nomination!
"This team went above and beyond to make SwanCare Tandara's Pyjama Day a success! They campaigned for the residents to join in, and made sure they were ready for the occasion, looking neatly presented in their pyjamas. They even encouraged the staff to participate, and those who didn't get the pyjama memo dressed up in costumes to provide fun and entertainment to our residents. But the team gave more than just entertainment. Everyone's involvement meant that for the whole day, the residents were able to feel like they were at home with their family taking care of them. Thank you for creating a truly special experience."
Leadership: Drishti Goojha (Residential Hospitality Supervisor - SwanCare Tandara)
You are an absolute superstar, Drishti. We are amazed at your efforts throughout this difficult time, and inspired by your selfless leadership. Thank you for all you do.
"Since Drishti stepped up into the Hospitality Supervisor role, she has been vital in organising and implementing COVID-19 lockdown procedures for all hospitality staff. She's been everyone's first point of contact for any issues, and has helped find shift coverage due to staff shortages. When she's unable to find someone to fill the shift, she doesn't hesitate to step in herself. She came in early and stayed back late to help hold down the fort, and without her amazing hard work, the hospitality team would have really struggled."
Learning and Development: Hlina Bezu (Food Service Assistant - SwanCare Main Production Kitchen)
People with vulnerable immune systems are at greater risk of being impacted by COVID-19, so we greatly appreciate the additional time Hlina took to ensure all our residents followed safety protocols perfectly. Thank you, Hlina!
"Hlina patiently took the time to assist some residents on how to comply with the isolation precautions we are taking, given the COVID-19 outbreak in K2. The residents have cognitive impairments, so they needed to be repeatedly reminded about the outbreak and instructed on how to wear their N95 masks. Thank you, Hlina, for making this effort."
Safety Awareness: Veronica Smith (Administration Assistant Hospitality - SwanCare Waminda)
Safety means everything to us at SwanCare, so we value Veronica's vigilance in ensuring our residents' health and safety. Thanks a million, Veronica!
"We were using handwritten labels for a long time, and have only recently replaced our label maker. When Veronica was making the new labels, she noticed that one of our residents' allergies was not in the system, so she immediately updated it and alerted our team. Thank you, Veronica, for being allergy aware and always looking out for the safety of our residents."
Team Nomination: Thinley Dema (AIN) and Safiatu Greywood (AIN) – SwanCare Tandara/Kingia
We love hearing stories of our SwanCare team sticking together to overcome the odds. Congratulations to Thinley and Safiatu on your commendable teamwork!
"Despite being very busy with their own work, Thinley and Safiatu constantly go above and beyond to assist care staff and nurses. They also complete additional housekeeping tasks without compromising the care they provide to our residents. This isn't easy, particularly during the current COVID-19 outbreak in K2, but their sincerity and patience never falter. I am in awe at their spirit and teamwork, and want to say a massive thank you to them for all that they do!"
About Feathers:
The SwanCare Feathers Rewards Program celebrates and acknowledges the incredible work completed every day by our staff. Feathers nominations are accepted across seven categories, all based on SwanCare's values of teamwork, customer service and leadership. Any member of our team can be nominated for their outstanding work, acts of kindness, or contributions to projects. Feathers rewards points are accumulated, and staff can redeem prizes from our online prize catalogue.
Nominate someone!
Do you know someone who goes above and beyond, while displaying SwanCare's values? If you would like to acknowledge a colleague's work, submit a Feathers nomination by logging in to Feathers
https://swancare.browniepoints.com.au
.