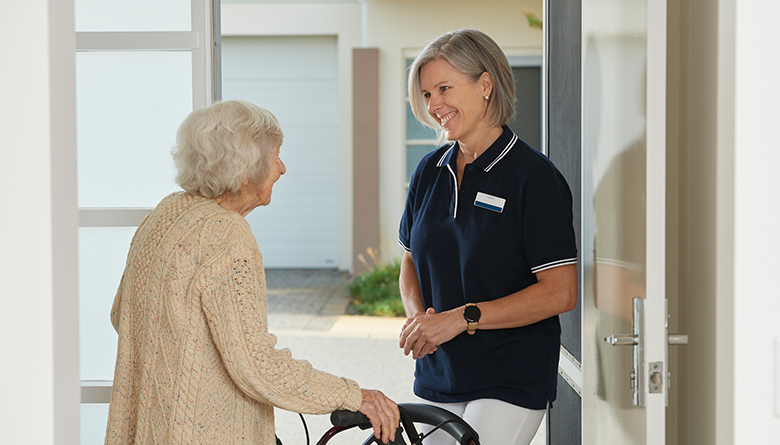 Are you looking for an impactful role where you can enrich lives in a close-knit community? SwanCare might be the perfect place for you, and there's never been a better time to come aboard.
We're on the lookout for a new Resident Support Services Officer (Clinical and Care) to welcome to our team. Here, you'll work within our SwanCare At Home team, using your outstanding people and communication skills to provide high-level customer and clinical support services to our community of independent living residents.
To learn the ins and outs of this important role, we spoke with one of our Resident Support Services Officers, Jennifer Dowling.
Jenny was working in a large arterial hospital when she wanted to make the change to a friendlier, more inclusive workplace. Compassionate and driven, Jenny had a gut feeling that SwanCare was the place for her, and every day since she joined our team, that feeling has been proven right.
In Jenny's words, a day in the life of a Resident Support Services Officer is "diverse and interesting." Jenny starts her day reviewing emails and security reports before meeting the Home Care team for their morning brief. She then hits the road, visiting residents in the SwanCare village and in their homes to provide support. This can involve helping them access equipment, resources, meals, maintenance or IT support.
Jenny is also tasked with the essential responsibility of carrying the emergency phone, responding to any medical emergencies that arise. As the day draws to a close, it's back to the office to complete some paperwork, such as updating residents' progress notes or liaising with medical and support services.
Though the role doesn't come without its challenges, our Resident Support Services Officers play a critical part in supporting our residents' needs. As a Resident Support Services Officer with clinical background this means supporting their clinical needs within the parameters of the role by providing care in the comfort of their own home. This means our residents can maintain their independence while still receiving the clinical support they require.
"By far, the thing I enjoy most in my role is the conversations I have around the village. There are around 600 independent living residents at SwanCare, and I'm slowly getting to know most of them by stopping to chat on my way to meeting other people. I believe that effective communication and building trust with residents is key."
The beauty of having such a diverse and varied role is that for our Resident Support Services Officers, every day is different.
Jenny finds it incredibly rewarding to be of service to such a large community, and loves the opportunity to influence and improve the lives of our SwanCare residents. At SwanCare, our residents are our number-one priority, and that amongst many other things, is what makes us stand above the rest.
"SwanCare has a longstanding and proven record of providing affordable accommodation that is safe and well maintained for elderly Western Australians, no matter what their personal or financial background may be. All the great things about SwanCare makes my role as Resident Support Services Officer so enjoyable because there is so much scope for me to help people get the most out of their lives here."
The outstanding benefits SwanCare provides doesn't stop at our residents.
"I was pretty chuffed when I found out I could salary sacrifice $15,900 per year. Staff at SwanCare can also pay a small fee to access our brand new gym at their leisure. We have an amazing recognition program called Feathers where we can celebrate our team members and earn rewards, and did I mention there's free staff parking, too? I just love the way everyone appreciates each other here, and I am so proud to be part of the SwanCare family."
And if you're interested in becoming a Resident Support Services Officer with us? Jenny has some great advice:
"Don't tell your friends about it! Just hurry up and fill out the application. There's nothing I don't enjoy about this job."
To apply or read more about this fantastic opportunity, visit the link below:
https://swancare.elmotalent.com.au/careers/scgjobs/job/view/66