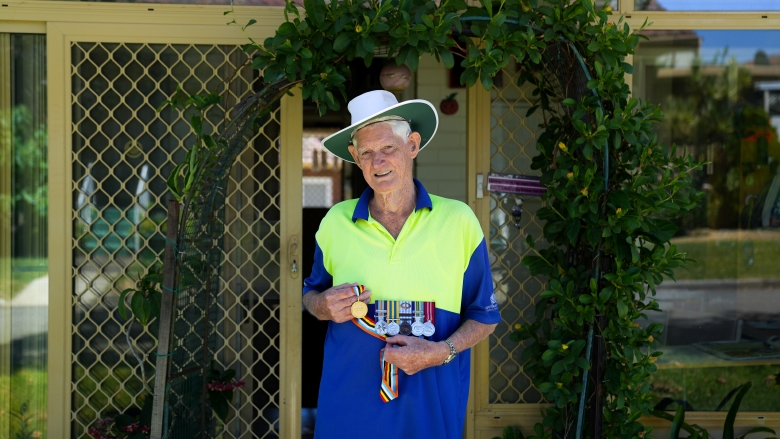 Retirement living resident Jack Matthews has resided at SwanCare for over 20 years. He shares his life story with us, from leaving school at 13 to becoming a Section Leader in the Australian Army.
After completing seventh grade, retirement living resident Jack Matthews felt it was time to spread his wings. Now at 96 years old Jack shares his life story with us, going right back to when he was a 13-year-old boy, fresh out of primary school and straight into cattle stations.

"Each winter I was involved in the movement of cattle, droving in mobs of about 1200 from the Northern Territory to Queensland where they were fattened for coastal abattoirs," Jack said.

There was only one explanation for the intense transportation of cattle, and it all came down to a story going around in 1942, "It was said that the cattle had to be moved away from coastal areas south of Darwin, which at the time was the expected invasion point of the Japanese troops. The idea was to starve them by taking away meat. We weren't aware at the time that they could survive on a handful of rice a day!"

Later in life, Jack became a Section Leader in the Australian Army which lead him to Korea, "About two hundred yards from our trenches was a very small hill in the Samichon Valley which was coveted by both sides," Jack said, "it was too small to hold during the day but for some reason both sides wanted it at night."

After a night of gaining experience of the track, Jack was delegated to take his section out the following night with the hope of attaining the hill, "We left shortly after dark, all very sombre, all very quiet."

Due to the consistent, heavy shelling, Jack was on edge and his nerves began to fail him, "I thought I saw something move in the paddy field down to our left. My nervous trigger finger fired a single 9mm Owen gun shot. Only one shot, but in the cold air it may as well have been a cannon, I had advertised our position!" After some wireless conversation, Jack and his section returned to base.

"No one ever spoke to me about the incident afterward, but on leaving the army two years later, I remained a Lance Corporal. In fact, that was the reason I never became a General in the Australian Army," Jack said.
Upon leaving the army, Jack was unable to settle and found himself wandering between jobs, "I began contract fencing and yard building on Minderoo Station, managed by Don Forrest, father of a gentleman who we now know as Twiggy Forrest, who was then only about six years old."

Due to a dry season further east, numerous kangaroos flooded Minderoo and upon Don's request, Jack was made responsible for managing the influx of roos who had become great pests.

"I bought a second-hand freezer from a crayfishing company and fixed it on a six-ton truck. With the help of up to a dozen shooters over four months, twelve thousand kangaroo haunches were delivered to exporters in Perth," Jack said, "Don was very pleased about the clearing of the roos but couldn't stand the smell of the remaining carcasses."

Jack remembers when the Americans began building communication towers at Northwest Cape to service their submarines in the Atlantic Ocean. Around this time, mining companies also started operating, and Jack became involved in both, "I got myself a bigger truck, I ended up owning three at one stage."

Working long, hard hours as a truck driver helped Jack to forget his earlier problems, but he eventually brought the business to an end, "Good long-haul drivers were rare and the trucks were all on hire purchase, so some years later I sold out and moved to Perth."

This is where Jack met and later married his wife, Elizabeth, "I was 42 and she was 38. She was a quiet but troubled woman, recently divorced with two children." Their marriage lasted thirty years with Elizabeth passing in 1999.

Jack begun exploring his love of travel, leading him on some incredible life experiences, "I walked the Kokoda Track in New Guinea, I also walked Bibbulmun Track end to end."

His support of the Australian Army continued being a big part of his life, and in 2001 Jack rode into Albany with three other riders in Light Horse uniforms for the Centenary of Federation. He also participated in various other parades across Western Australia until about 2010, where they would show the horses and various equipment horseman used throughout the first World War.

For over 20 years Jack has lived happily in the Bentley Park village, "I really enjoy the lifestyle and the friendly social life of my fellow residents."

Thank you for sharing these incredible life stories with us, Jack. We are so happy to have you part of our SwanCare community!