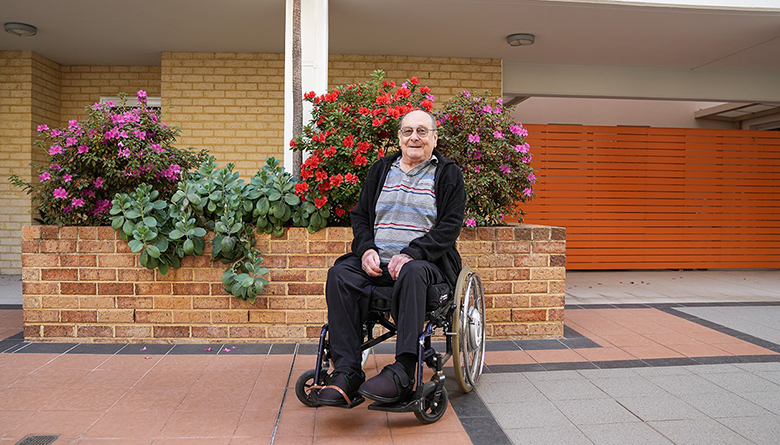 When Richard Edgecombe was just 15 years old, he had an accident that would change the course of his life forever.
When Richard Edgecombe was just 15 years old, he had an accident that would change the course of his life forever. He was riding his bike with his friends around the platform of the Merredin train station, showing off, when he fell off the edge of the platform, landed on the tracks and broke his back rendering him a paraplegic.
Richard woke up in the hospital instinctively knowing his legs didn't work, in fact he was paralysed from below the navel. "When you're 15, that's a dangerous age for a boy… you think you're invincible," Richard said. "We weren't meant to have our bikes on the platform, but we didn't take any notice of that."
Richard spent the next year in hospital in Shenton Park, being rehabilitated by a talented doctor who insisted he go back to school. Although he didn't want to, Richard attended Hale School making friends along the way.
When Richard finished at school, he picked up a job at a jeweller's shop back in Merredin where his family was based. "Being a jeweller wasn't my plan of course, the accident changed all that," said Richard. "My grandfather was a farmer in Pinjarra, and I used to go and visit him on school holidays and think, this is the life for me! But after the accident I knew shop work would suit me."
Richard's father asked the local jeweller in town if Richard could work for him, the jeweller accepted, and that's how he got his first job. "About two years in, the jeweller decided he wanted to sell his business," said Richard. "Mum and Dad bought the shop and Edgecombe Jewellers was born!"
Richard enjoyed learning the jewellery trade and loved being part of Merredin, a community that he had grown up in. "I had the shop for 50 years, so I think I'd be classed as a local," Richard laughs.
"There was only one jeweller in town, and I was it. It was a great job. You get to know people and be part of their special occasions. I had very loyal clientele and very loyal, long-term staff."
Richard worked mostly on repairs of jewellery during his time owning the store. "We didn't make jewellery there, but we did help people find what they we're looking for," said Richard.
More recently Richard retired and sold his beloved store. "I only recently sold the shop to a very nice man. I did expand at one point. Thought I'd be a tycoon, so I opened shops in Narrogin, Busselton, and Northam. But in the end, I decided to keep it simple so went back to just one shop. I believe if you do it really well, people will support you."
Although he's faced adversity in his life, Richard said that he still feels very lucky and finds joy in every day. "I don't have any regrets, I've had a lucky life," he said. "People asked how I got through it, but after the accident I just had to tell myself 'You're still alive, you have to carry on'. You just must find that mental strength. Every day is valuable to me."
Richard always has a positive outlook on any situation life took him through. "I didn't let anything stop me," said Richard. "Along with the shop, I ended up doing some farming with my brother who has a wheat and sheep farm in Burracoppin, and I had 4,000 acres of my own. That was in the era when you worked with share farmers. I paid the bills and they supplied the labour. I worked with some really good men and I loved farming."
Richard also has a love of motorcycles. "I've ridden up to Darwin and back on hand-controlled bikes," said Richard. "It's great fun to be on a bike and explore new places."
Family has always been very important to Richard who feels very lucky to have them in his life. "I've been surrounded by family, and I've felt very lucky for that too. I never found a girl silly enough to marry me, but I have a wonderful brother, and a fabulous sister-in-law, plus my nieces and nephew.
When we spoke to Richard, never giving up was part of his reminder to us all. "I think the thing to remember is that no matter what happens to you, life is precious, and you have to make the most of it. Even in the worst of situations, you have to remind yourself, it'll get better and it always does.
After moving into SwanCare mere months ago, Richard is looking forward to exploring all that SwanCare has to offer. "I do as much as I can with every day, and I'm looking forward to exploring all the amenities at SwanCare, there's so much to do here," said Richard.
Richard's plan for the future is all about enjoying retired life. "I'm still enjoying myself every day and I plan on continuing to do that. Mum lived until she was 104 and Dad lived until he was 93, and I fully intend to beat the old man."
Thanks for chatting with us, Richard! Your positivity is uplifting to us all and we hope you enjoy your new home here at SwanCare.