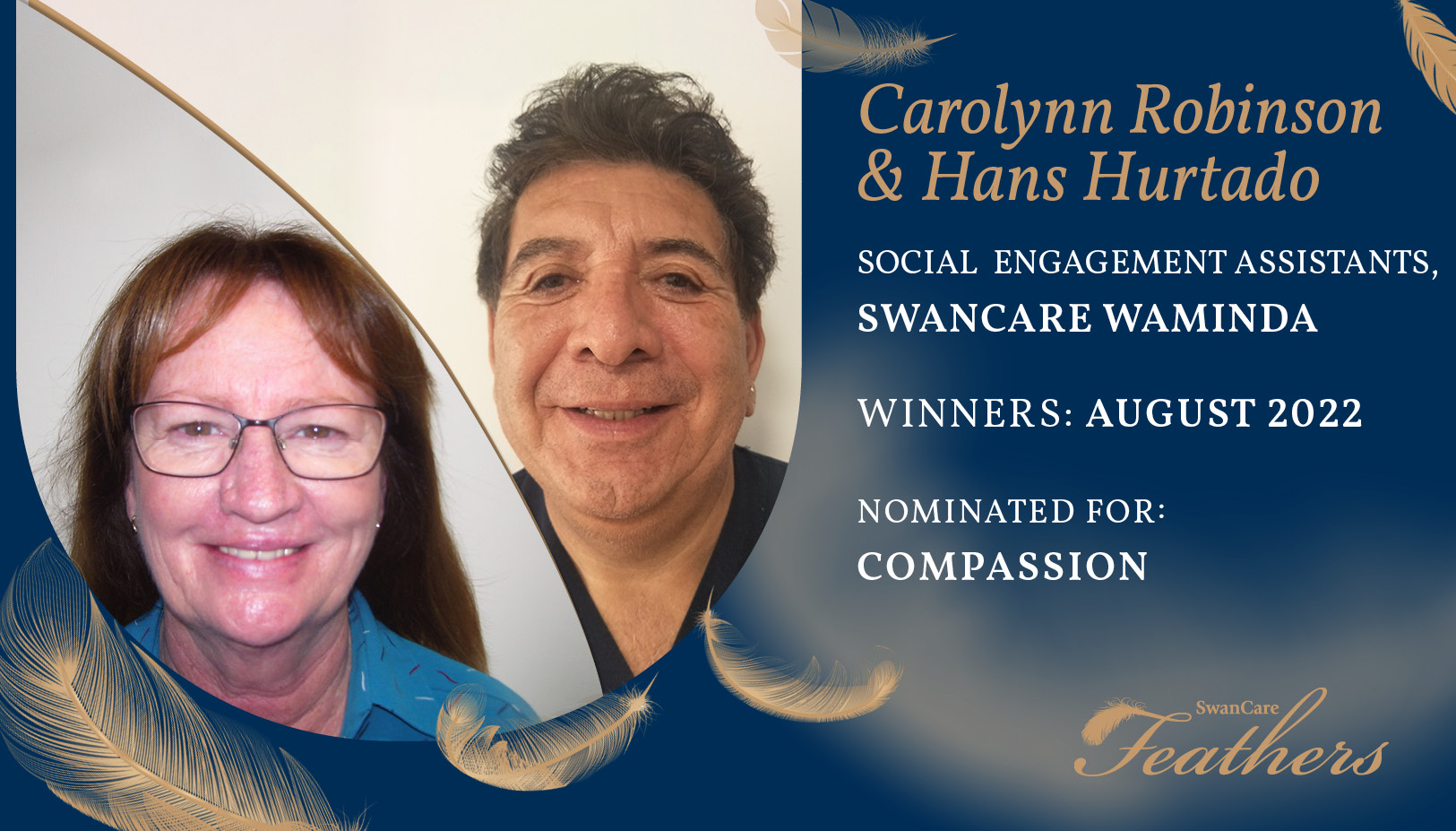 The compassion shown every day by our people at SwanCare never ceases to amaze us. Our team cares deeply for our residents and each other, and we couldn't be prouder to have such amazing people in our community.
The compassion shown every day by our people at SwanCare never ceases to amaze us. Our team cares deeply for our residents and each other, and we couldn't be prouder to have such amazing people in our community.
It's only fitting that our
overall Feathers winners for August are Carolynn Robinson and Hans Hurtado
for Compassion. It's never easy when one of our residents passes away, particularly when a close relationship has been built with them. The level of respect and dignity Carolynn and Hans gave one resident in particular was so heart-warming, and we're glad they were able to be there for her in her final days.
"There was a widowed resident who had been living in Waminda for the past few years. She was in fairly good health until recently, when she was confined to her room. Carolynn had been visiting her frequently, and they had become very close. Carolynn had been on annual leave, but as soon as she returned and heard the news that the resident had taken a turn, she immediately went to her and sat by her side for four hours. The next morning, Hans called in to visit outside his working hours to find the resident had passed away. He made the necessary calls and stayed with the resident until assistance arrived. It's stories like these that earn SwanCare our outstanding reputation of providing the highest level of care for our residents."
Category Winners
Customer Service: Tenzin Choden
(Assistant in Nursing – SwanCare Kingia & Tandara)
Congratulations on such a well-deserved nomination, Tenzin! Thank you for taking the extra time to give our residents exceptional service.
"One of our residents had returned from an appointment in a taxi but was having trouble finding his wallet. No one else was available to help him, and although Tenzin had not yet started her shift, she arrived early and didn't hesitate to step in. She wheeled the resident back to his room to find the wallet and helped him pay the driver. Showing care and responsibility for our residents is always the first priority for Tenzin."
Improvements, Innovation and Creativity: Alia Arias
(Registered Nurse – SwanCare Waminda)
It's always a bittersweet feeling when one of our team members retires. But Alia put in the time and effort to make it an event worth celebrating. Thank you, Alia!
"Last week, we celebrated a fellow team member's retirement after 33 years of service at SwanCare. Alia spent a lot of time creating a themed display for our shared lunch, including signage, banners and balloons to decorate the room. There were speeches, photos and gifts for our retiree, and people from all over SwanCare were in attendance, including our marketing team, night staff and GM. Alia made it such a special occasion, and I know our colleague felt very loved because of all her efforts."
Leadership: Preetha Thamilarase
r (Coordinator Quality & Compliance – SwanCare Residential Care)
There's nothing like a smile to brighten someone's day. Thank you, Preetha, for keeping your shining smile despite your busy schedule!
"A number of staff are currently off on leave, and Preetha has well and truly stepped up to ensure shift coverage is maintained. Although she is extremely busy, she still served our team with a happy smile at the monthly 'thank you lunch'. Her efforts to support not only the residential staff but the wider SwanCare team are truly appreciated. Thank you, Preetha!"
Learning and Development: Claire Judd
(Receptionist – SwanCare Ningana)
Congratulations on your wonderful contributions to learning and development, Claire!
"Claire has spent so much time continually working through the Loop Kiosk implementation, offering vital feedback and amazing future improvement suggestions. People like Claire make it a lot easier to introduce new (and sometimes painful) technology and solutions. She truly lives up to the SwanCare values."
Safety Awareness: Helen Sans-Souci
(Community Assistant – SwanCare at Home)
Sometimes, the smallest things can have a big impact. We're so glad to have people like Helen looking out for the safety of our residents and team.
"Helen recognised a potential hazard in the form of an open reticulation cover with cable junctions visible. She reported this and raised her concerns to the resident welfare team, allowing the cover to be reinstated promptly and the contractor to be retrained in compliance practices for the future. This was a great pick up and would have been easy to walk by, but Helen kept resident safety at the forefront of her mind. Thank you, Helen, for being so observant and conscientious."
Teamwork: Steve Meeks
(ICT support officer – SwanCare Administration)
We love welcoming new people to the SwanCare team, especially when they fit in so well! Congratulations on a great start, Steve. We can't wait to see what you achieve next.
"Steve has been an awesome fit to our IT team! I've noticed how quickly he's been able to adapt and learn while finding his way through the growing and changing systems of SwanCare's IT environment. He always asks the right questions and takes on every new challenge with a smile. Way to go, Steve!"
Team Nomination: Seefaben Divan
(Community Assistant),
Helen Sans-Souci
(Community Assistant),
Jason Carpenter
(Community Assistant),
Maxine Gibaud
(Community Assistant) and
Stephanie Burgess
(Community Assistant) – SwanCare at Home
We love hearing how our SwanCare team impacts the lives of not only our residents, but their families, too. We received this lovely message from a resident's daughter about the amazing service provided to them by this incredible team.
"I wanted to sincerely thank you all for the wonderful care you provided to my Mum. We are very sad to be leaving the apartment at SwanCare, but Mum has unfortunately moved to a palliative care stage in her life. It has not always been easy, but your support made the world of difference and it is much appreciated. Thanks to everyone for the support and care you have given - I couldn't have asked for better."
About Feathers:
The SwanCare Feathers Rewards Program celebrates and acknowledges the incredible work completed every day by our staff. Feathers nominations are accepted across seven categories, all based on SwanCare's values of teamwork, customer service and leadership. Any member of our team can be nominated for their outstanding work, acts of kindness, or contributions to projects. Feathers rewards points are accumulated, and staff can redeem prizes from our online prize catalogue.
Nominate someone!
Do you know someone who goes above and beyond, while displaying SwanCare's values? If you would like to acknowledge a colleague's work, submit a Feathers nomination by logging in to Feathers
https://swancare.browniepoints.com.au.