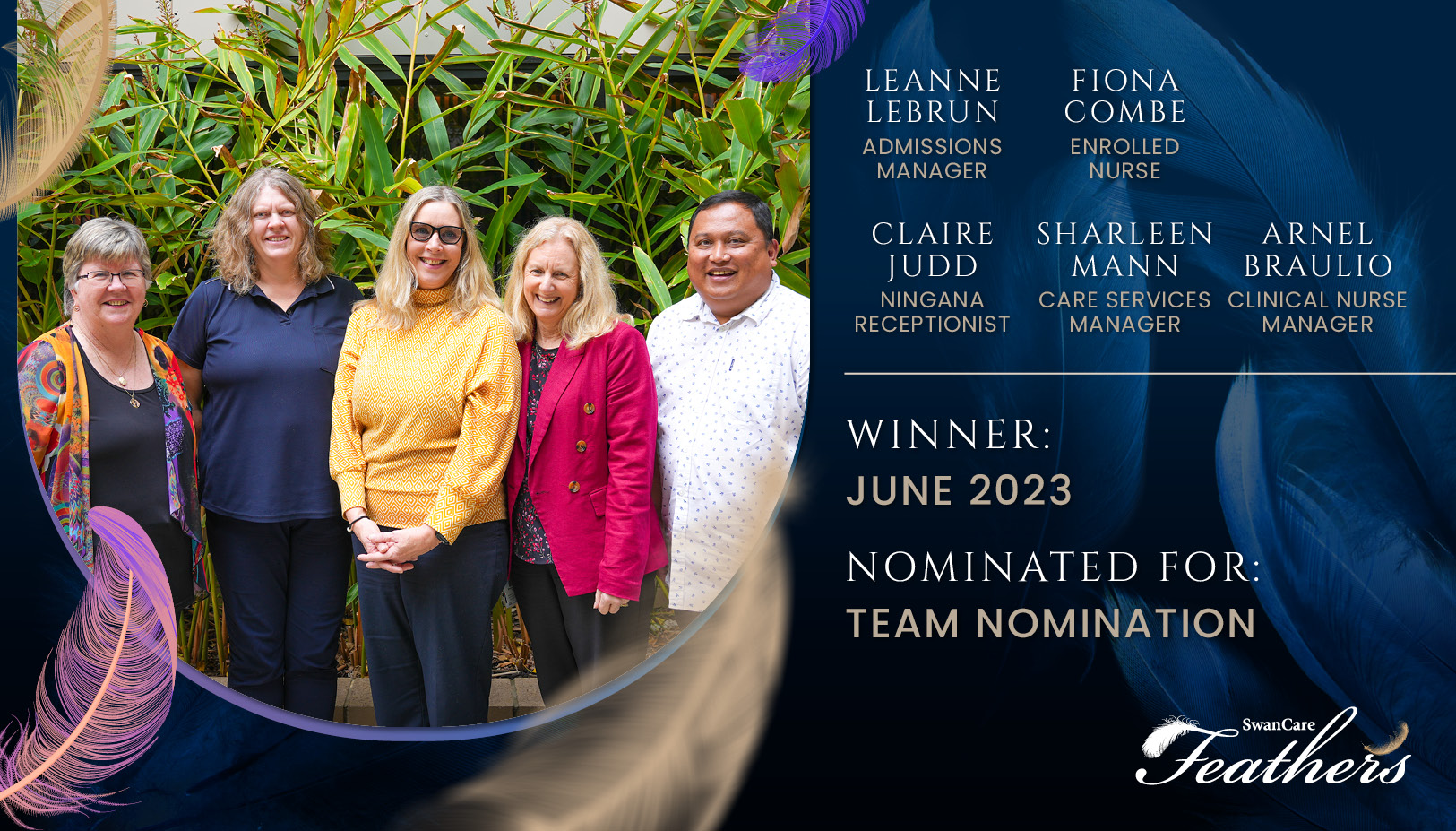 Join us in congratulating our Feathers winners for June 2023!
There's a saying at SwanCare: When we care for our residents, we're caring for them like they are part of our own family. It is extremely fulfilling to support and build strong connections with not just our residents, but also the people closest to them; and when we receive feedback, such as this team nomination, it serves as a reminder to our staff that their actions do not only make a difference to our residents' lives, but also to their families.

This month we are proud to award Sharleen Mann (Care Services Manager – SwanCare Ningana), Leanne LeBrun (Admissions Manager), Claire Judd (Receptionist – SwanCare Ningana), Fiona Combe (Enrolled Nurse – SwanCare Ningana) & Arnel Braulio (Clinical Nurse Manager – SwanCare Ningana) as our June Feathers Winners.

"Our brother, Tony, passed away on the 26th of June 2023. My sister and I would like to thank the entire staff at SwanCare Ningana who attended to our brother over the past 2+ years, as they all displayed deep compassion and empathy towards Tony and the entire family during that time. We commend your staff for providing professional care in both his physical and mental health care over an extended period, particularly through the COVID-19 pandemic and other outbreaks of diseases. Whilst we acknowledge the very import role of the day-to-day nursing staff (which as we say was exemplary) it would be remiss of us not to mention specific staff that helped us deal with Tony's ongoing health concerns. So, it is only fitting that the following staff be especially mentioned: Sharleen Mann, Leanne LeBrun, Claire Judd, Fiona Combe and Arnel Braulio. From the bottom of our hearts, we thank each and every staff member at Ningana for your professionalism and dedication to the very important work you all do. God bless you all."

Congratulations to the team at SwanCare Ningana, huge well done to you all. Thank you for being part of our team and having such a positive impact on our SwanCare community.

We also congratulate the following category winners for all their extra efforts and care they demonstrate to our residents and each other every day!

Category Winners
Compassion: Sandra Milne (Enrolled Nurse – SwanCare Waminda)

"Yesterday Sandra was caring for one of our treasured residents who was at end-of-life. Muriel was 103 years old and born in Scotland. Sandra was also born in Scotland. Sandra is known for providing the most wonderful palliative care to our residents but on this occasion, I really felt that she had gone above and beyond in her compassionate caring. She was heard singing "Old Danny boy the pipes the pipes are calling..." Muriel passed away peacefully soon after. Thank you, Sandra, for always going the extra mile for our residents and I hope there is someone like you with me when my time comes!"

Customer Service: Algin Frijas (Assistant in Nursing – SwanCare Kingia)

"One day Algin told me he could bring his own audio equipment to SwanCare Kingia for karaoke, so we discussed to arrange a karaoke activity for the two floors to join together. I was surprised it was advanced audio equipment! I saw Algin drag a trolley filled with many devices and it took him half an hour to set up and debug. The perfect sound effects made our residents more excited and made it more enjoyable and healing for the soul. Later one lady said, "It's an amazing feeling hearing flat voices became ambisonics. It's pleasant." Thanks, Algin, for contributing with your own equipment and bringing fun to our residents."

Leadership: Sushila Sapkota (Registered Nurse – SwanCare Kingia & Tandara)

"Sushila has been very resourceful during the recent COVID-19 outbreak, guiding staff with best practice, screening residents, closely monitoring and liaising with the team. She initiates conversations with families with any changes in condition and supports nursing staff with PPE and other supplies. She is also mentoring junior nursing staff and has been an extra support. She demonstrates great leadership qualities. Thank you, Sushila, for all that you do."

Learning & Development: Preetha Thamilaraser (Quality & Compliance Coordinator)

"I recently attended the clinical staff induction session run by Preetha. It was an amazing session. Preetha was very patient and explained all the questions thrown at her and managed to cover a wide range of topics within the designated time and was able to tailor it to the staff who were present. This is very vital support that registered nurses need when they are new to the role, and this is also offered to existing staff who may need to brush up on their memory. Even though this is part of Preetha's role, the way it was delivered was above and beyond and I understand it is hard to change the session according to attendees in a moment's notice. Thank you for the great work, Preetha."

Recognising Others: Ivy Alconaba (Registered Nurse – SwanCare Ningana)

"I asked Ivy for advice for our Armchair Travel session to the Philippines and she mentioned some places where I could get some snacks for our residents to try during the activity. The next day I found a bag filled with Filipino delicacies on my desk with a nice message. I went to Ivy to thank her for this lovely gesture and told her that we can reimburse what she spent, she then said that she is happy to contribute for this activity and for our residents. When we ran the session the following day, she also got involved and talked to our residents about the Philippines. They really appreciated having her over and found the activity fascinating. Ivy went above and beyond, and we are very grateful to have her support."

Safety Awareness: Claudia Acosta (Physiotherapy Assistant – SwanCare Ningana)

"Claudia was with a resident in her room and noticed her bathroom was wet. The resident was not sure if this was because of her shower earlier this morning or if the pipes were leaking. As such, Claudia went to grab a mop and dried the area for the resident. Not only did this simple action help ensure the resident was safe when using the bathroom, but also helped to determine if Maintenance needed to be called in should there be a leak from the pipes. This demonstrates safety awareness and teamwork with the Maintenance team. Thank you, Claudia, for your kind and proactive behaviour."

Teamwork: Vicky McCabe (Enrolled Nurse – SwanCare Ningana)

"I would like to recognise Vicky. Recently we faced the challenging situation of having four RNs off sick simultaneously and it is thanks to Vicky that our operations continued seamlessly. Vicky stepped up without hesitation, willingly picking up the extra shift to cover the shortage in nursing staff. Thank you, Vicky, for being an outstanding team member and for your relentless dedication to our team and residents' wellbeing and safety."

About Feathers:
The SwanCare Feathers Rewards Program celebrates and acknowledges the incredible work completed every day by our staff. Feathers nominations are accepted across seven categories, all based on SwanCare's values of teamwork, customer service and leadership. Any member of our team can be nominated for their outstanding work, acts of kindness, or contributions to projects. Feathers rewards points are accumulated, and staff can redeem prizes from our online prize catalogue.

Nominate someone!
Do you know someone who goes above and beyond, while displaying SwanCare's values? If you would like to acknowledge a colleague's work, submit a Feathers nomination by logging in to Feathers https://swancare.browniepoints.com.au.