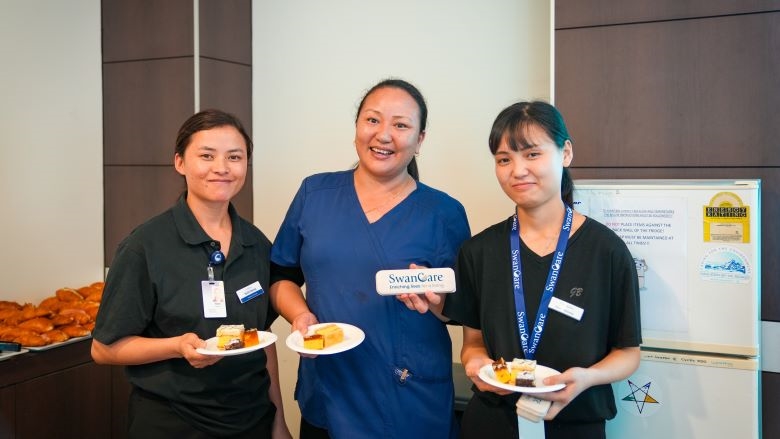 If you've been keeping up with us on social media, you'd know earlier this month we celebrated Aged Care Employee Day!
August 7th is Aged Care Employee Day and is an opportunity for us to acknowledge and give gratitude to the valuable people who go above and beyond, enriching lives every single day.
To commemorate, we held a morning, afternoon and evening tea for all staff across the SwanCare campus, as a small token of our appreciation to every individual who makes a difference through enriching the lives of our residents every single day.
Staff across each shift took a moment to connect, have a laugh, and our favourite… enjoy a bite to eat with the delicious catering provided by our very own Spritz Catering Services.
"I'm so proud of the care we provide at SwanCare and the dedicated staff who provide it," said CEO, Graham Francis, "They have a lot of pride in their work and give so much. From our carers to catering, maintenance, laundry, administration and across the board, we have a wonderful team."
At SwanCare, we truly value the dedication and compassion our staff have in caring for our residents. To demonstrate this, we put together a small video highlighting the wide range of departments that all contribute to enriching the lives of our residents every day.
To view the video, click here to visit our Facebook page:
Aged Care Employee Day Video